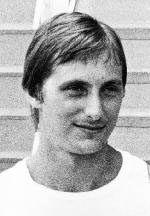 Falk Hoffman (GDR)
Honor Diver (1999)
The information on this page was written the year of their induction.
FOR THE RECORD: 1980 OLYMPIC GAMES: gold (10m platform); 1978 WORLD CHAMPIONSHIPS: silver (3m springboard, 10m platform); 1974 EUROPEAN CHAMPIONSHIPS: silver (10m platform); 1977 EUROPEAN CHAMPIONSHIPS: gold (3m springboard), bronze (10m platform).
The German Democratic Republic's Falk Hoffman became one of the world's best divers and the greatest male diver to emerge from Germany. What motivates an athlete to go on to such greatness? Many of us will never know.
Falk dove internationally for eleven years (1970 to 1981) during the reign of Hall of Famers Greg Louganis, Klaus Dibiasi and Georgio Cagnotto. In 1973, he gained international notoriety by winning the bronze metal in platform diving behind Dibiasi at the World Championships. In 1978, Falk bettered his World Championship performance by winning silver medals on both three meter springboard and 10 meter platform, this time behind Hall of Famer Phil Boggs and Greg Louganis respectively.
Although Hoffman could perform equally well on both springboard and platform, his greatest success came on the 10 meter platform. Falk's chance for stardom came at the 1980 Olympics, and he grabbed it, winning the gold on the platform. In bringing home the gold to his native Germany, Falk Hoffman became the first German platform diving gold medalist since Hall of Famer Gattlob Walz in 1906.