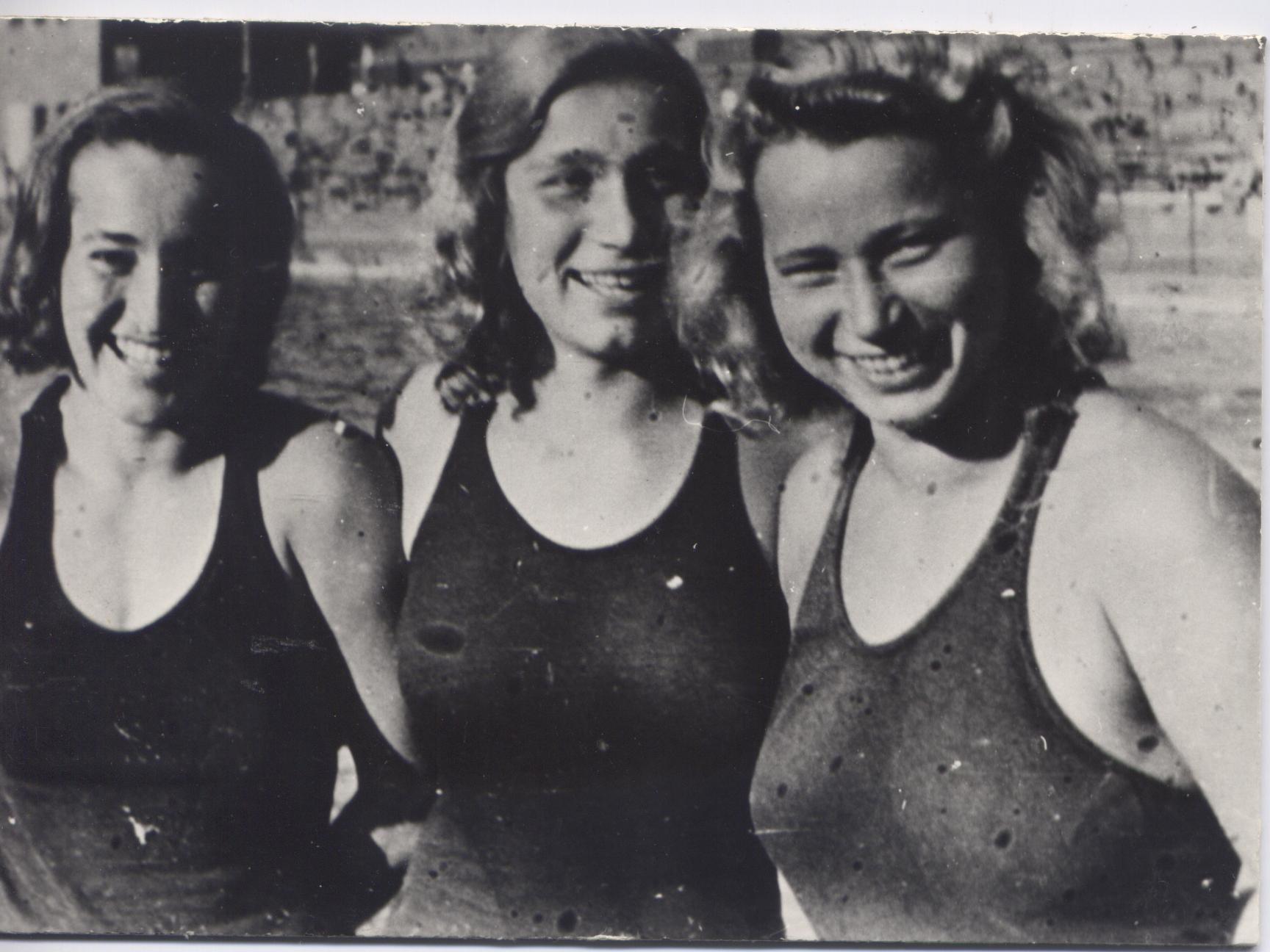 Eva & Ilona Novak (HUN)
Honor Swimmer (1973)
The information on this page was written the year of their induction.
FOR THE RECORD:
ILONA: OLYMPIC GAMES: Hungarian Olympic Team: 1948 4th (100m backstroke), 5th (4x100m freestyle relay); 1952 gold (4x100m freestyle relay); Between 1938-1956 won 54 national or international gold medals (backstroke; freestyle).
EVA: OLYMPIC GAMES: Hungarian Olympic Team: 1948 bronze (200m breaststroke); 1952 gold (4x100m freestyle relay), silver (400m freestyle, 200m breaststroke); Belgian Olympic Team: 1956 member; HUNGARIAN NATIONAL CHAMPIONSHIPS: 33; HUNGARIAN NATIONAL RECORDS: 48; BELGIAN NATIONAL CHAMPIONSHIPS: 8; WORLD RECORDS: in 200yd, 200m, 400m breaststroke.
Eva & Ilona are the only sister team to win gold medals in Olympic swimming.
Ilona Novak achieved her Olympic Gold Medal goal near the end of her career as Captain of the Hungarians' winning 400m freestyle at Helsinki, Finland. Also on that winning relay was Miss Novak's little sister Eva, the 1952 era's greatest orthodox breaststroker who finished second to teammate Eva Szekely using the over water butterfly arm stroke. . . all this in the time just before the strokes were separated (January, 1953). It was 1961 before Karen Beyer, an East German, finally went faster in orthodox than Eva's 2:48.5 world record set in 1951. Eva also silver-medaled to teammate Valeria Gyenge in the 400m freestyle. The Hungarian girls in 1952 dominated the Olympics as no women's swimming team before or since. The Hall of Fame recognizes all of these girls (7 of 8 gold medals) in honoring from their ranks the only sister team ever to gold medal in Olympic swimming.
While sister Eva's 2 silvers and a gold is the more spectacular 1952 performance (there were only four events and a relay), Ilona's career, reaching its peak during the war years, is a most remarkable fete of longevity. Between 1938 and 1956, school teacher Ilona won 54 national or international gold medals in backstroke and freestyle events. On post war comebacks she placed fourth in the 1948 Olympic 100m backstroke and was on a world record medley relay as late as 1956.
Eva Novak's Hungarian development prior to the 1952 games saw her overtake the remarkable breaststroke world records of Nel Van Vliet at 200 yds., 200m, and 400m. Ironically, her 200m record in 1951 (orthodox) was 3.2 seconds below Olympic time the following year when she placed second. She was also on the Hungarian Olympic team in 1948 (bronze medal) and the Belgian Olympic team in 1956. She held 48 Hungarian National records, winning 33 championships in Hungary and 8 more in Belgium. Eva Novak Gerard is a medical doctor, practicing and doing research in Brussels. She met and married her sports reporter husband during the Helsinki Olympics, then went on competing (for Belgium) in 1958.
Ilona, a Budapest physical education teacher, now coaches gymnastics as well as swimming, and is Vice President of the Hungarian Swimming Federation.
In the 1970s, the Novak sisters continue to show the remarkable qualities socially and professionally that made them swim champions for so many years.