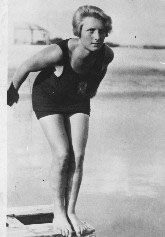 Ethelda Bleibtrey (USA)
Honor Swimmer (1967)
The information on this page was written the year of their induction.
FOR THE RECORD: OLYMPIC GAMES: 1920 gold (100m, 300m freestyle; 4x100m freestyle relay); WORLD RECORDS: freestyle, backstroke; NATIONAL AAU CHAMPIONSHIPS: between 1920 and 1922 won every national championship from 50yd to 1 mile; turned professional in 1922 after an undefeated amateur career.
Ethelda Bleibtrey was the USA's first female Olympic swimming champion and the only person ever to win all the women's swimming events at any Olympic Games. She took up competitive swimming for the first time in 1918, won the nationals within a year, and was the best in the world by the end of the second year (1920 Olympics).
Miss Bleibtrey won 3 gold medals in the Games at Antwerp and says only fate kept her from being swimming's first 4 gold medal winner in one Olympic Game, an honor Hall of Famer Don Schollander accomplished 44 years later in Tokyo. "At that time," she says, "I was the world record holder in backstroke but they didn't have women's backstroke, only freestyle in those Olympics."
For her world and Olympic records in the 100 and 300 meter freestyle and anchor leg of the winning U.S. 400 freestyle relay, Ethelda was congratulated by King Albert of Belgium. She later surfed with the Prince of Wales in Hawaii, dated oarsman Jack Kelly in Atlantic City, and triumphantly toured the Panama Canal, Australia and New Zealand. The invitation down under came when she was the first girl ever to beat Hall of Famer Fanny Durack, the long-time Australian multi-world record holder on Fanny's U.S. tour in 1919.
Miss Bleibtrey had several other firsts for which she got citations but no medals. Her first citation was for "nude swimming" at Manhattan Beach. She removed her stockings before going in to swim. This was considered nudity in 1919. Resulting publicity and public opinion swinging in her favor not only emancipated Ethelda from jail, but women's swimming from stockings. On her trip to Australia with Charlotte Boyle the misses Bleibtrey and Boyle were the second and third famous women to bob their hair — something Irene Castle had just introduced. Charlotte's parents told them not to come home until it grew out (citation #2), for which they were reprieved when the ship landed and the Boyle's decided it didn't look as bad as they had feared. Citation #3 got Ethelda arrested in Central Park and paddy-wagonned down to the New York police station for a night in jail but it also got New York its first big swimming pool in Central Park after Mayor Jimmy Walker intervened.
It happened like this: "The New York Daily News" wanted the City to open up its Central Park reservoir for swimming and arranged to have Ethelda arrested while diving in. For this they paid her $1,000.00, money she sorely needed after an abortive attempt to turn pro with a tank tour of the Keith Circuit. Her tank leaked — all over the theater — and Keith's sued her instead of continuing her promised 14 week tour.
Ethelda Bleibtrey, who started swimming because of polio, and took it up seriously to keep her friend Charlotte Boyle company, turned pro in 1922 after winning every national AAU championship from 50 yards to long distance (1920-1922) in an undefeated amateur career. She also started the U.S. Olympians Association with Jack Kelly, Sr., and later became a successful coach and swimming teacher in New York and Atlantic City. She is currently a practicing nurse in North Palm Beach, Florida — not as young but just as interesting. The sparkle remains in her eyes as she tells how they swam their 1920 Olympic races "in mud and not water," in a tidal estuary; and how she participated in the first athletic sit-in when Hall of Famer Norman Ross organized the Olympic team to sit it out on the beach in Europe until the U.S. Olympic Committee sent better accommodations for the voyage home. "I have my memories," says Ethelda, "and I guess some of those other people remember too. I owe a great deal to swimming and to Charlotte Boyle, who got me in swimming and L. deB. Handley, who coached me to the top."