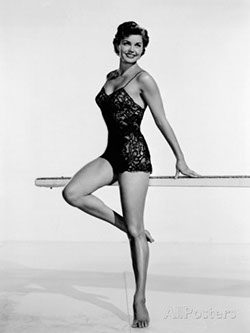 Esther Williams (USA)
Honor Swimmer (1966)
The information on this page was written the year of their induction.
No other person is asked or talked about more at the International Swimming Hall of Fame than Esther Williams, the most celebrated swimming, stage and screen star Hollywood has ever seen. She was a competitive swimmer who used her swimming talent to become one of Hollywood's most famous actresses.
Born in Los Angeles, she grew up swimming in playground pools and surfing at local beaches. In 1939, swimming for the Los Angeles Athletic Club, she became the U.S. National Champion in the 100m freestyle as well as a member of three LAAC National Championship relay teams – the medley relays swimming breaststroke, and the freestyle relay. As a favorite for the 1940 U.S. Olympic Team, World War II intervened, canceling the Games and her hopes for gold and fame.
Esther decided to go pro and switched from breaking records in the pool to breaking records at the box office. With her stunning good looks and tall, muscular frame, she was a standout! Legendary showman Billy Rose hired her to star opposite Johnny Weissmuller in his "San Francisco Aquacade", a Broadway musical of swimmers, divers, singing and special effects. MGM executives soon offered her a screen test paired with Clark Gable. She signed her first contract and debuted with Mickey Rooney in "Andy Hardy's Double Life". Audience response was phenomenal and her movie career soared into high gear.
"Bathing Beauty" with Red Skelton was Hollywood's first swimming movie. A special deep pool was built on the MGM lot complete with lifts, hidden air hoses and special camera cranes for overhead shots. "No one had ever done a swimming movie before" she exclaimed, "so we just made it up as we went along." Busby Berkley was responsible for the water scenes – the fountains, flames and smoke, and lots of pretty girls. "Bathing Beauty" was second only to "Gone with the Wind" as the most successful film of 1944.
In "Million Dollar Mermaid", Esther played Annette Kellerman who in 1907 was arrested on a Boston beach for wearing a shocking one-piece swimsuit that revealed her arms and legs. It was the first film to cost over $1 million dollars. "Dangerous When Wet", "Pagan Love Song" and "Easy to Love" were others of her 26 career films. Her movies inspired many youngsters to take up water ballet and popularized synchronized swimming.
Following her stellar movie career, she put her name on the Esther Williams Above Ground Swimming Pool. Her Esther Williams swim suit collection, sold in department stores, was designed for the more mature woman. For more than 18 years, she was America's sweetheart. In 1953, the foreign press voted her the most popular actress in 50 countries.