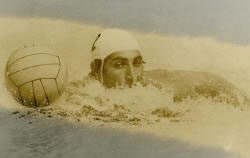 Eraldo Pizzo (ITA)
Honor Water Polo (1990)
The information on this page was written the year of their induction.
FOR THE RECORD: OLYMPIC GAMES: 1960 gold; EUROPEAN CUP: 1965 gold; EUROPEAN CHAMPIONSHIPS: 3 (1958, 1966, 1970); Member of Olympic Teams (1960, 1964, 1968, 1972).
Contemporaries say Italy's Eraldo Pizzo had no peers during his 12 years of high scoring, world class water polo. He burst on the world scene in the 1960 Olympics, leading his team to a Rome gold at home. He made every Italian Olympic team and every all-star selection in the next few Olympics, 1960, 1964, 1968, and 1972, but never again did the Italian team medal, in spite of winning three European Championships in 1958, 1966, and 1970 against the teams that beat them in the Tokyo, Mexico City and Munich Olympics. It is a tribute to Eraldo Pizzo, Mr. Italian Water Polo, that the Hungarians, Russians and Yugoslavs were unanimous in saying his time in the International Swimming (and Water Polo) Hall of Fame was overdue. During a 29 year career in top competition, Pizzo played on the Italian National team 178 times. His final world match was against the United States in the Munich Olympics in 1972, but he played ten more years of club competition in Italy for one of the longest careers in water polo history. Pizzo was on 15 Italian Water Polo teams. He was the top scorer in 1962 (27 goals) and in 1969 (69 goals). When he retired as an active player in 1982, he became the Pro Recco's Club President for the next three years. He was elected to the International Water Polo Hall of Fame in 1984 and has received Athlete of the Year, Sportsman of the Year and Golden Swimmer Awards. He was decorated by the Italian President after receiving the Carnegie Foundation Silver Medal in 1984.