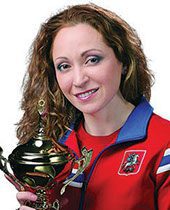 Elvira Khasyanova (RUS)
Honor Synchronized / Artistic Swimmer (2021)
The information on this page was written the year of their induction.

FOR THE RECORD: 2004 OLYMPIC GAMES: gold (team); 2008 OLYMPIC GAMES: gold (team); 2012 OLYMPIC GAMES: gold (team); 2001 WORLD CHAMPIONSHIPS: gold (team); 2003 WORLD CHAMPIONSHIPS: gold (team); 2005 WORLD CHAMPIONSHIPS: gold (team); 2007 WORLD CHAMPIONSHIPS: gold (free routine combination, team technical routine, team free routine); 2011 WORLD CHAMPIONSHIPS: gold (free routine combination, team technical routine, team free routine)
Synchronized swimming demands advanced water skills. It requires great strength, endurance, flexibility, grace, artistry, and precise timing – not to mention exceptional breath control when upside down underwater. Competitors display their strength, flexibility, and aerobic endurance as they perform difficult routines. Elvira Khasyanova embodies all of these traits.
Born in Moscow, in 1981, her parents often took her to the Olympic swimming pool where she was taught how to swim. Just before turning seven, she was introduced to the synchronized swimming coach. "From there I started my journey with this beautiful sport", she fondly remembers.
Khasyanova first began competing in synchronized swimming at Club Trud in Moscow, from 1988 to 2001. As she continued to improve her skills, she joined the famous MGFSO club across town in 2001, where she stayed until the end of her career. It was there, that Khasyanova saw most of her success.
Elvira competed as a member of the Russian Junior National Team from 1994 through 1998. In 1996, she won gold in the team events at the Junior World Championships and at the Junior European Championships. She repeated her gold winning performances in the duet and team events at the 1998 Junior World and the Junior European Championships.
It was in 1999, that Khasyanova's dreams really began to take shape as she became a member of the Russian Senior National team.
Her first competition as a National Team Member was at the FINA World Championships in 2001, in Fukuoka, Japan, where she and her teammates easily beat Japan. This marked the beginning of Russian dominance in the sport of synchronized swimming.
As a member of the Russian Senior National Team from 1999 to 2012, Elvira participated in three Olympic Games, winning gold medals in the team competition in 2004 (Athens), 2008 (Beijing) and 2012 (London).
Elvira's favorite memory from her Olympic experiences is from Athens in 2004. She and her teammates began to perform when suddenly the music stopped. It continued to go on and off during their entire performance, yet the women continued to keep count in their heads, not missing a beat. The Russians finished their performance as if nothing had happened. When it was over, the crowd erupted and most of the judges gave them perfect scores of 10. It was an amazing moment and it is still Elvira's favorite memory.
Outside the Olympics, Khasyanova was a member of the Russian gold-medal-winning World Championship teams in 2001, 2003, 2005, 2007 and 2011. She would have medaled in 2009 but missed the event after suffering a cracked rib that occurred while performing a lift during practice as a substitute for a fellow teammate.
Elvira's last Olympic Games, which was the last event of her career, was in London, where Russia once again won the team event and took the gold medal. It was Elvira's third consecutive gold medal in the Olympic event. Elvira and the Russian team earned 98.930 points for the team's free routine. They wore stunning black, red and gold suits featuring a spider-web design on the back. The team swam, flipped and kicked their way through Denis Garnizov's song, War and Step, earning 197.030 points overall.
Upon returning home from London, Khasyanova and her team were greeted at the Kremlin and presented with state honors by Russian President Vladimir Putin. Elvira was only one of five synchronized swimmers presented with the Order for Services to the Fatherland – an award rarely given.
Khasyanova announced her retirement on November 1, 2012. She emigrated to the United States and is currently the assistant synchronized swimming coach at Stanford University. She is married and has a 7-year-old daughter Sofia, and 1 year old son named Waris.