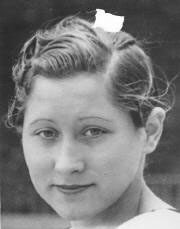 Eleanor Garatti-Saville (USA)
Honor Pioneer Swimmer (1992)
The information on this page was written the year of their induction.
FOR THE RECORD: OLYMPIC GAMES: 1928 gold (400m freestyle relay); 1932 gold (400m freestyle relay), bronze (100m freestyle); U.S. NATIONAL SPRINT CHAMPION: 1925-1929.
Eleanor Garatti-Saville was one of the USA's premier sprinters who pushed Olympic gold medalist Helene Madison and Albina Osipowich to their respective Olympic victories in Amsterdam in 1928 and Los Angeles in 1932. Other than Dawn Fraser of Australia, Eleanor is the only woman 100-meter sprinter to medal in two successive Olympic Games in Olympic history. Fraser won golds in 1956, 1960 and 1964.
Between the 1928 Amsterdam Olympics and the 1932 Los Angeles Olympics, Eleanor married. But at a time when a wife's role was in the home, she continued swimming. In 1932, she won the bronze medal in Los Angeles, narrowly beaten by her teammate and Olympic gold medalist Helene Madison and Holland's silver medalist, Willy den Ouden, who held every women's record from 100-meters to 500-meters freestyle.
Eleanor was especially noted as a great relay swimmer on the 1928 and 1932 U.S. Olympic Gold Medal 400meter Freestyle Relay Teams. In addition, she also won four U.S. National Sprint Championships between 1925 and 1929.