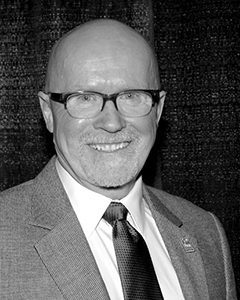 Edward Evelly (CAN)
Honor Masters Contributor (2017)
The information on this page was written the year of their induction.
INTERNATIONAL HIGHLIGHTS: CHAIRMAN FINA MASTERS COMMITTEE (8 years); BOARD MEMBER SWIMMING CANADA & SWIMMING SA; MEMBER OF FINA MASTERS TECHNICAL COMMITTEE; OFFICER AND REPRESENTATIVE TO FINA AND UANA; BOARD LIAISON NATATION CANADA, 2004 PRESIDENT'S AWARD (Swimming/Natation CAN); 2004 SPECIAL RECOGNITION AWARD (Swimming/Natation CAN); 2006 PRESIDENTS AWARD (Masters Swimming CAN), 2015 HUD STEWART AWARD; 2015 MOUNT PEARL SPORTS HALL OF FAME (Builder), 2016 SPECIAL APPRECIATION CERTIFICATE FOR COMMITMENT AND DEDICATION TO THE SPORT OF MASTERS SWIMMING IN CANADA AS A DIRECTOR
Ed Evelly's commitment to aquatics began in 1981. Volunteering at swim competitions quickly turned into officiating, serving as various club committee chairs and executive positions that eventually led to becoming President of Swimming Newfoundland and Labrador (SNL) in 1990. In 1991, Ed was also appointed as a Provincial Representative to the Board of Directors/Natation Canada (SNC), and soon the Chairman of the Finance Committee, the Athletes Reserve Fund, and of the Membership Committee.
Ed then took his love of Masters Swimming to another level and became Canada's Board Liaison to the Committee of the SNC, responsible for Masters Swimming Canada (MSC). At that time, MSC was simply a committee of SNC. Ed worked diligently with the Chairman of that committee, Alex Herman from Nova Scotia, to structure the first Constitution and By-laws and finally encourage SNC that MSC should become an independent autonomous body associated to FINA by membership in SNC Aquatics Canada. Ed remained in the role of liaison between SNC and MSC and helped grow the new Masters organization in the coming years. He eventually was elected to the Board of Directors of Masters Swimming Canada in 2003, while at the same time, serving in international Masters roles with UANA (Union Americana de Natacion) and FINA (Federation Internationale Natacion de Amateur).
From 1997 to 2002, Ed remained on the Board of Directors of SNC and was Vice President of Corporate Affairs and Community Services and successfully implemented Swim Canada's first Gender Equity Plan. He also wrote and implemented Swim Canada's first Harassment and Abuse Policies, preparing much of the resource material specific for Swim Canada's needs. Ed was recognized for his efforts with Harassment and Abuse Policies by the Canada Centre for Sport and Law. In addition, Ed worked diligently with MSC, to see that these policies were adopted for Masters.
From 2000-2002, Ed successfully led a governance review for Swimming Natation Canada of all board, volunteer and staff processes resulting two years later in the reduction of the board of directors from a 24-member operations board to a policy board of nine members. The staff review in the ensuing years resulted in the hiring of a new Executive Director and coaching staff. Ed left the board of directors in 2002 to concentrate on Masters, specifically UANA, FINA and MSC. In 2001, Ed received an appointment to two international sports governing bodies. He was first appointed and remains a member of UANA, the body responsible for all aquatic disciplines for the Americas. In UANA, Ed has worked with the Masters committee to see the UANA Pan American Championships grow from its first championships in the Dominican Republic, to a multi-discipline event inclusive of the FINA disciplines that attracted 3,000 competitors from the UANA nations. Ed remains Vice-Chairman of the UANA Masters Committee.
In 2001, Ed was also appointed to the Masters Technical Committee of FINA, where from 2005-2009, he served as honorary secretary. In 2009, he was appointed Chairman and is currently in his second term, ending in 2017.
Under Ed's direction as Chairman, the FINA Masters Technical Committee has introduced many new processes to ensure support for the organizing committees of FINA World Masters Championships. Ed helped develop many of the procedures, plans and protocols which help make running this event and others like it much easier.