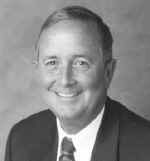 Eddie Reese (USA)
Honor Coach (2002)
The information on this page was written the year of their induction.
FOR THE RECORD: 1988 OLYMPIC GAMES: Assistant Coach Men's and Women's Team; 1992 OLYMPIC GAMES: Head Coach Men's Team; 1996 OLYMPIC GAMES: Assistant Coach Men's Team; 2000 OLYMPIC GAMES: Assistant Coach; 1998 WORLD CHAMPIONSHIPS: Assistant Coach Men's and Women's Team; Coach of 22 OLYMPIANS winning 22 gold, 10 silver and 3 bronze medals; 9 NCAA NATIONAL CHAMPIONSHIPS; Coach of 17 NCAA Individual Champions (1977-2001) winning 39 NCAA titles.
One of the most successful coaches in swimming history, Eddie Reese has a knack of bringing out the best in each swimmer, that is, getting them to swim fast. Never without a smile or a kind word, his poolside manner is his key. His swimmers have a lot of fun but underneath, they work their hardest. Eddie's proven success is built on fun, confidence and hard work.
Reese was born July 23, 1941 in Daytona Beach, Florida. He entered Mainland High School at 13 years old and swam on every school swim team from ninth grade until graduation. He won two state championships in the 200y individual medley and held the National Junior Olympic AAU title in the same event.
He graduated from the University of Florida in 1963 with a degree in physical education. He had won seven Southeast Conference titles in the 200y and 400y individual medleys, 200y breaststroke and 400y freestyle and medley relays, tying for third on the Gators all-time SEC title leaders list over a three-year period.
He remained in Gainesville as a graduate assistant coach for one year. After a year at Roswell (New Mexico) High School, Reese returned to Florida as assistant coach from 1967 to 1973 before taking over the head-coaching job at Auburn University in Alabama. Shortly after leaving Florida, his younger brother Randy became head swim coach of the men's and women's Florida Gator teams. Reese spent six years at Auburn University taking a team that had never scored at the NCAA National Championships to a second place team finish his last year.
In 1978, he was hired as head coach of men's swimming at the University of Texas in Austin, where he remains today. Through the 2001 season, he developed a record of 183 dual meet wins and 53 losses in a 23-year period. His teams have won 8 NCAA National Championships. Eddie's induction into the International Swimming Hall of Fame is measured by his international success on the world-swimming scene. Reese-coached swimmers by Olympic years include:
1976 – Montreal, Bill Forrester won the bronze medal in the 200m butterfly.
1980 – Moscow, Rick Carey, William Paulus, Bill Forrester and Kris Kirchner earned spots on the U.S. Olympic Team, but did not compete because of the boycott. Kirchner was a member of the 100m and 400m free relays, while Paulus won the USA Trials and set a world record in the 100m fly. Ken Armstrong was a member of the Canadian Team.
1984 – Los Angeles, Rick Carey captured three golds winning the 100m (55.79) and 200m (2:00.23) backstrokes and helping the U.S. win the 400m medley relay.
1988 – Seoul, Chris Jacobs earned a silver in the 100m freestyle (49.08) and two golds as a member of USA's 400m and 800m relays. Doug Gjertsen also swam the third leg of the USA's winning 800m free relay, while Shaun Jordan won gold in the prelim leg on USA's winning 400m relay team. Kirk Stackle joined the U.S. squad with a second in the 200m breaststroke in trials. Bill Stapleton competed in the 200m I.M. and Daniel Watters made the U.S. team in the 100m breaststroke.
1992 – Barcelona, Hans Dersch earned a gold in the 400m medley relay (prelims). Doug Gjertsen captured gold in the 400m free relay (prelims) and a bronze as a member of the American 800m free relay. Shaun Jordan won gold swimming a prelim leg on USA's 400m relay team.
1996 – Atlanta, Josh Davis earned three gold medals for his contributions to the USA relays. He swam the leadoff leg in finals of the 800m free relay, and took part in the 400m free relay, and swam the freestyle leg of the 400m medley relay in the preliminaries. Former Longhorn Gary Hall, Jr. struck gold swimming the anchor legs in the finals of the 400m free relay and the 400m medley relay. He also raced to two silver medals in the 50m and 100m freestyles. He attended Texas in 1993-1994.
Former Longhorn Brad Bridgewater swam to gold in the 200m backstroke. He attended Texas in 1992-1994. Carlos Arena was a member of the Mexican Swimming Team.
2000 – Sydney, Current swimmers Ian Crocker and Tommy Hannan as well as former Longhorns Josh Davis, Nate Dusing, Scott Goldblatt, Gary Hall, Jr., Jamie Rauch and Neil Walker competed for the United States accounting for one-third of the entire USA Swimming Team. Davis carried the youthful squad, capturing two silver medals as a member of the 400 and 800 freestyle relay teams.
In his first Olympics, Walker claimed a gold medal as a member of the winning 400 medley relay and a silver medal in the 400 freestyle relay, while Rauch, Goldblatt and Dusing all earned Olympic silver in the 800 freestyle relay event. Former Longhorn Gary Hall won gold medals in the 50 freestyle and as a member of the 400m medley relay. He also claimed silver as the anchor of the 400 freestyle relay and a bronze in the 100 freestyle. In addition, Crocker and Hannan won gold in the 400 medley relay. All total, 21 of Reese's swimmers won 21 gold medals, 10 silver medals and 2 bronze medals through 2000.
In World Championship competition from 1978 to 2001, swimmers Dusin, Goldblatt, Hansen, Crocker, Walker, Hall, Davis, Gjertsen, Carey and Nevid have won a total of 9 gold, 7 silver and 2 bronze medals. At the Pan Pacific Championships from 1985-1999, 12 Reese coached swimmers won 17 gold medals, 7 silver and 8 bronze while at the Pan American Games from 1979 to 1999, 11 of his swimmers won 17 gold, 2 silver, and 4 bronze medals.
In long course swimming, Reese-coached Rick Carey set 3 world records in the 100m backstroke and two world records in the 200m backstroke. William Paulus set the 100m butterfly record in 1981. Swimmers competing on relays helped set nine world records including Chris Jacobs (400 FR), Doug Gjertsen (800 FR), Rick Carey (400 MR, 4 times), Ian Crocker (400 MR) and Gary Hall, JR. (400 MR – 2 times). Short course world records were set by Clay Britt (100m back), Rick Carey (100m, 200m back) and Scott Spann (100m breaststroke, 100m butterfly, 200m IM).
Eddie was selected head coach of the U.S. Men's Olympic Swimming Team for the 1992 Barcelona Olympics, and assistant coach for the 1988 Seoul Games, 1996 Atlanta Games and 2000 Sydney Games. He was the American Swim Coaches Association Coach of the Year (1991) and awarded the College Swimming Coaches National Collegiate and Interscholastic Swimming Trophy. He was recognized by other Halls of Fame, including the Texas Longhorn Hall of Honor.
Eddie's emphasis has always been "the team." Individual success is derived from team play and team play is successful because of individual success. "A lot of people look for the easy way to do anything. And in swimming, there is no easy way."
Rather than coach the sport of swimming, Eddie teaches it; and he places just as much emphasis on teaching the skills of life to his swimmers. He is a prime example of nice guys don't finish last. They finish first.