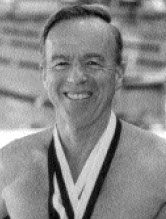 Drury Gallagher (USA)
Honor Masters Swimmer (2006)
The information on this page was written the year of their induction.
INTERNATIONAL HIGHLIGHTS: World Points – 614, Pre-1986 Points – 99, Total Points – 713; Since 1975, he has competedin six age groups (35-39 thru 60-64); 27 FINA MASTERS WORLD RECORDS.
Drury is the second eldest of eight brothers and sisters born to Kay and Frank Gallagher. Since they were raised in a beachfront community, Rockaway Beach, on the western end of Long Island, mom and dad made sure that they all learned to swim at an early age. Their teacher was a legend in the swimming world, sometimes referred to as Father Neptune, Joseph A Ruddy. Hew as a two time Olympian and is an Honor Swimmer and Water Polo Member of the ISHOF. He taught a generation of youngsters to swim in the 1940's and 50's. Joe also taught themthe art of ridingwaves and bodysurfing as well as a love for the sport of swimming.
As a youngster, Drury would spend three or four hours a day swimming and riding waves. Little did he know that he would be building the endurance and stamina for a swimming career. He did not swim competitively until the age of 13 in 1951 when he entered Brooklyn Preparatory High School. Were it not for his failures, he would never have achieved his success inthe sport of swimming. His love was the ball sports. He first tried out for the football team as a quarter back but was too light at 100lbs. He then tried out for basketball as a guard, but was too small at 5 feet tall. He tried out for baseball as a pitcher, but the swim coach, Walter Doolan, was also the baseball coach and he said that Drury had more talent and endurance as a swimmer. During his freshman year, as a member of the varsity swim team, some of the senior swimmers introduced Drury to the Brooklyn Central YMCA swim program where he trained with coach Henry Phfeer whom he credits most of his success as a high school champion and All American swimmer. In his senior year, he was named the outstanding athlete of the school over all the ball team athletes.
In 1956, Drury accepted a swimming scholarship at Fordham University and was an outstanding all-around swimmer in the Northeast region. He also competed off season for the New York Athletic Club in the AAU program. He received All American honors during his college career and was also voted the outstanding athlete at Fordham, several years later he was inducted into Fordham's Hall of Fame. After college and a short time in the Naval Air reserve program where he swam for six months, Drury though this swimming career was over.
He started his business career as a financial consultant, married his childhood sweetheart, Cathy, with whom he has been married to for forty three years. They settled down and before you knew it there were five little Gallagher children. In 1972, at the age of 34, Drury received a call from some of his friends at the NYAC asking him if he would like to swim for them in the masters program. It was the beginning of his second swimming career. I twould not be easy, since he was the father of five children and had a financial services business to run. He competed on a regional and national level, however it took him seven years before he broke through and started winning national titles and setting world records. His first national title was in a 200yard backstroke event, his slowest stroke, at the age of 40. He trained on his own and worked out with young age group swimmers. Their coaches, Dave Ferris of Long Island Aquatics and Sigitas Rudokas of Old WestburyAquatics enabled Drury to swim exceedingly fast during his forties.
It was not until his late forties that he had the opportunity to train hard under the coaching of Lisa Baumann, coach and founder of the Aquafit Masters program on Long Island. Drurywas able to not onlymaintain his times but to actually swim faster into his early 60's. Unfortunately, at that time, he was diagnosed as having severe coronary arterydisease and had to under go double-by-pass surgery.
Drury Gallagher is considered one of the most versatile swimmers in the U.S. and International Masters Swim program. To date, he has broken world records from the 50meters breaststroke to the 1500meter freestyle event. He has set world records in butterfly, breaststroke, freestyle and individual medley events. Drury has won 101 National and International Titles in all strokes as well as the individual medley. He has set 27 FINA Masters World Records and unofficially broken another 15 WorldRecords as well as setting 81 American Records. He was inducted into the New York Athletic Club's Hall of Fame in 1995.
In 1982, as a memorial to his son, Drury, Jr, who died in an accident in early 1981, he and Tom Hetzel established the Manhattan Island Swimming Association. This year was the 25th Anniversary of the Manhattan Island Marathon Swim which was held this past June. Drury completed the 28.5 mile swimin 1982 and 1983 setting unofficial world records both times. The Manhattan Island Foundation is responsible for supporting the learn to swim program for New York City children as well as cleaning up the waters around the island of Manhattan.
Drury feels that his achievements in swimming have been an inspiration and motivation for his children's success in their athletic and business careers. Daughter, Danielle, was an All-American lacrosse player in High School and College, and played on four U.S.World Cup Teams. Daughter, Sabrina,was also an All-American lacrosse player in High School and College. Son, Douglas, was an All-American swimmer at the University of Virginia. Daughter, Patrice, has excelled in her business career and has participated in several triathlons.
Drury is currently the Chairman and CEO of Global Gold Corporation, a publicly traded international mining, exploration and developmental company located in Greenwich, Connecticut. He hopes towind down his business activities in the next few years and get back to some serious swimming. Ashe enters his senior years, Druryalso hopes to give back to the sport by teaching youngsters the art and love of swimming as his teacher and mentor, Joe Ruddy, had done.