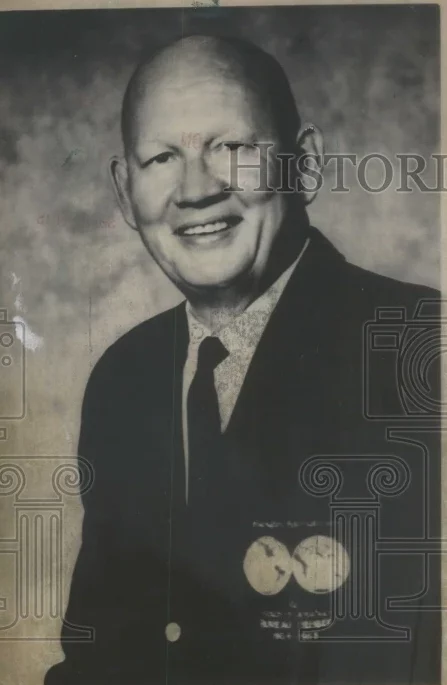 Dr. Harold Henning (USA)
Honor Contributor (1979)
The information on this page was written the year of their induction.
FOR THE RECORD: One World Record, Coach of 12 conference and 3 college National Team Champions and 2 Olympians; Manager, 1964 U.S. Olympic Swim Team and 1955 U.S. Pan American Teams; Referee at 1 Olympics, 1 World Championships, and 4 Pan American Games; Organizer and Aquatics Director of Chicago Pan American Games; Chairman, U.S. Olympic and National AAU Swimming; President, Central AAU; Secretary and President of the FINA (Federation Internationale de Natation Amateur) and of the ASUA (Amateur Swimming Union of the Americas).
A high school track, football and basketball star and YMCA swimmer, Dr. Harold Henning (practicing dentist) is one swimming administrator who knows where he's been. He's paid his dues as a competitor, as an AAU All-American, as a member of the Chicago Towns Club World Record Freestyle Relay and National Championship Team, second to Adolph Kiefer in the U.S. Nationals in backstroke, and as NCAA finalist in backstroke and freestyle. As amateur coach of North Central College for 12 years, he won 12 conference championships and 3 national small college championships. He developed Olympic gold medalist Richard Blick at North Central. With time out for WWII Navy Service and dental school, Dr. Henning has had 30 swimming years as official, organizer, and executive culminating as the first native-born American President of FINA. He is currently a member of the United States Olympic Executive and Administrative Committees, member of the Los Angeles 1984 Organizing Committee and member of FINA and ASUA Executive Committees. Dr. Henning has received every major award that is bestowed in swimming by his peers — national and internationally.