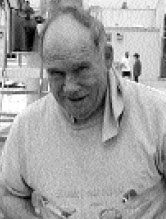 Dr. Floyd Stauffer (USA)
Honor Masters Diver (2006)
The information on this page was written the year of their induction.
INTERNATIONAL HIGHLIGHTS: 20 FINA Masters World Championships: 1m springboard (6), 3m springboard (7), 10m platform (7); Since 1975, he has competed in eight age groups (50-54 thru 85-89); Competed in 49 USA Masters National Diving Championships: 115 gold, 18 silver, 5 bronze medals.
He began swimming on a Lake Michigan beach. He sang in the boys choir of his church and was able to attend a summer camp where he found a two-inch thick plant, 16 inches wide and 12 feet long projecting over the water. He would run up and bounce into the air, doing some trick attempting to land into the water with little injury. Thus were the origins of Floyd "Dal" Stauffer's infamous diving career.
Throughout his life he has sought out pools and platforms, often learning and watching from other divers. At the 1934World's Fair, he was invited to be part of the diving exhibitions competing with the country's best divers. To pursue his interest in physiology, he joined the Navy Reserves but continued to compete throughout college in club and AAU regional competitions, diving on occasion with a then young Sammy Lee.
Upon his graduation, he was commissioned overseas near the end of the war. Upon his return to the US he began diving for the Navy becoming the All-Navy Diving Champion of 1947. After suffering a back injury, Dal realized that hemust stop diving for his children's well-being – he could not risk being crippled. Fifteen years passed before he heard a local sportsman promote the idea of the Senior Olympics. With the family doing well and feeling healthy, he decided to join both swimming and diving – and wound up losing the swim to his senior, Buster Crabbe. However, he faired well in the diving event and began diving regularly. In 1974, Dal went to Texas for the first Masters diving meet. Since then, he has been participating, coordinating and diving for the fun of it.
Throughout hisMaster's career, Dal Stauffer has competed in 20 FINA Masters World Championships and 49 USA Masters National Diving championship throughout eight age groups beginning with the 50-54 age group. He embodies the heart and soul of diving where his contributions and legacy will long be remembered. His lifelong love affair with diving has affected his body. He has lost three inches and has lost nerve function up and down his spinal cord. At 89, Dal yearns to attend one more meet and dive into history, being the first to set a Master's diving record for 90 year-old men.