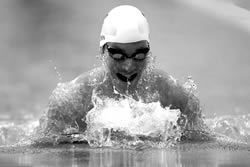 Domenico Fioravanti (ITA)
Honor Swimmer (2012)
The information on this page was written the year of their induction.
FOR THE RECORD: 2000 OLYMPIC GAMES: gold (100m, 200m breaststroke); 2001 WORLD CHAMPIONSHIPS: silver (100m breaststroke), bronze (50m breaststroke); 1999 WORLD CHAMPIONSHIPS (25m): silver (100m breaststroke); 1997 EUROPEAN CHAMPIONSHIPS: 5th (100m breaststroke); 1999 EUROPEAN CHAMPIONSHIPS: gold (100m breaststroke); 2000 EUROPEAN CHAMPIONSHIPS: gold (100m breaststroke), silver (200m breaststroke).
Domenico Fioravanti was born in Novara, Italy on the 31st of May, 1977. He started to swim competitively at the age of nine. One year later, following in the footsteps of his older brother, Massimiliano, he began training daily.
Although a breaststroke specialist, Domenico won his first international medal in 1996 at the European Short Course Championships in Rostock as a member of Italy's silver medal 4×50 meter freestyle team. In 1997, he obtained his first career international gold medal, winning the 100 meter breaststroke at the Mediterranean Games in Bari, Italy.
1998 was another year of growth, with Fioravanti winning nine Italian national titles in individual and relay races, and finishing fifth in the 100 meter breaststroke at the FINA World Championships in Perth, Australia. In 1999, his steady rise in world rankings continued with a silver medal in the 100 meter breaststroke at the World Short Course Championships in Hong Kong, and a gold at the European Long Course Championships in Istanbul. A year later in Sydney, Domenico got the biggest wins of his career, winning gold medals in both the 100 meter and 200 meter breaststroke events at the 2000 Olympic Games.
Fioravanti remained among the world's elite breaststrokers after Sydney, but in preparing for Athens in 2004, he was diagnosed with cardiac hypertrophy. So, as a precaution, he retired from swimming. In 2008, he received the Olympic Legends Fair Play Award and he is currently an ambassador for the Italian Swimming Federation and television commentator for RAI.
During his racing career, Fioravanti won 46 Italian national titles, including relays. At the Sydney Olympic Games, he made history by becoming the first Italian swimmer to win an Olympic gold medal.