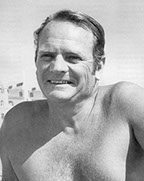 Desmond Renford (AUS)
Honor Open Water Swimmer (2016)
The information on this page was written the year of their induction.
FOR THE RECORD: 19 Crossings of the English Channel; 1969: 22.5k Sydney Harbour Swim from Luna Park to Manly and back; 1973: 60k race on Murray River: first place; 1974: 36.6k across Queensland's Moreton Bay; 90k Watsons Bay to Wollongong.
When Matthew Webb's feet touched the sandy beach at Cape Gris Nez, France on the morning of August 25th, 1875, after an ordeal of almost almost 22 hours, he became the first man to swim unaided across the English Channel and became a world-wide celebrity as "King of the Channel."
''Nothing great is easy,'' Webb famously said.
Seemingly destined to follow in Webb's wake, Desmond Renford was born in New South Wales, Australia exactly fifty-two years after Webb's historic swim, on August 25, 1927. It just took him a while to realize it.
A state swimming champion before his 10th birthday, Renford gave up swimming in races in his teens to work as a lifeguard and a succession of other careers until, at the age of 39, he became interested in swimming distances. At 41, with very little training, he entered a 24-mile race across Port Phillip Bay in Melbourne. He failed to finish, but neither did anyone else. It was while he was recovering from that swim in a hospital that he resolved to swim the English Channel.
After completing a successful swim in 1970, he set his sights on becoming the "King of the Channel," a title accorded to the swimmer with the most crossings. Over the next five years Des swam across the "old ditch" seven more times to take the crown from Myron Sharp. One of his swims ended in gale-force winds. On another, he was run over by a Hovercraft but survived to reach France.
Retaining his title would not prove easy, for Renford had stoked the competitive flames of two Britons, Mike Read and Kevin Murphy whose rivalry would grow to become part of the folklore of the sport. In 1979, Read surpassed Renford with an unprecedented six Channel crossings in a single year. Now, it was Renford's turn to respond. The next year, Renford, reclaimed the crown, catching Read unaware with three swims within ten days, and before Read could respond, Renford retired. During his career, he had swum the Channel 19 times in 19 attempts. Read later regained the title, then lost it to Murphy in 2000, but reclaimed it with his 33rd swim in 2004.
While the Channel wasn't the only body of water he swam, it is where he became famous. Among the many honors he received was his appointment to the Order of the British Empire in 1976 and election to the Sport Australia Hall of Fame in 1998. In 1992, He released his biography, "Nothing Great is Easy: The Des Renford Story," and on March 1, 2000 the former Heffron Pool was named in his honor, the Des Renford Aquatic Center.