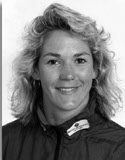 Debbie Watson (AUS)
Honor Water Polo (2008)
The information on this page was written the year of their induction.
For The Record: 2000 Olympic Games: gold; 1986 World Championships: gold; 1983 World Cup: bronze; 1984 World Cup: gold; 1991 World Cup: silver; 1995 World Cup: gold;
Australia has produced one of the greatest female water polo players to ever play the game. If not for injuries incurred while playing her beloved netball, the world may have never known what a talent she was in the pool!
In 1983, after doctors advised her to give up land sports, she joined her school's water polo team. She immediately fell in love with the game and within a year, Debbie Watson was selected to represent Australia at the World Cup in Canada. For the next 11 years, eight as captain, she was a member of the New South Wales State Team that won 13 National Championships.
After winning virtually every international competition available to women, including World Championships and World Cups, she retired in 1995. But when the IOC added women's water polo to the Olympic program in 2000, Debbie jumped back into the pool. The Olympic Games was the only competition in which Debbie never had the chance to compete. She not only gained her spot back on the national team, she was instrumental in helping Australia win the first ever women's water polo gold medal in front of a hometown Sydney crowd. Debbie's career spanned 17 years, all at the elite level.
She is history's only women's water polo player to win Olympic, World Championship and World Cup gold medals. She has 315 competitions and was named the International Women's Player of the Year in 1993.
Today, Debbie is an accomplished motivational speaker, water polo coach and grammar school teacher of health and physical education.