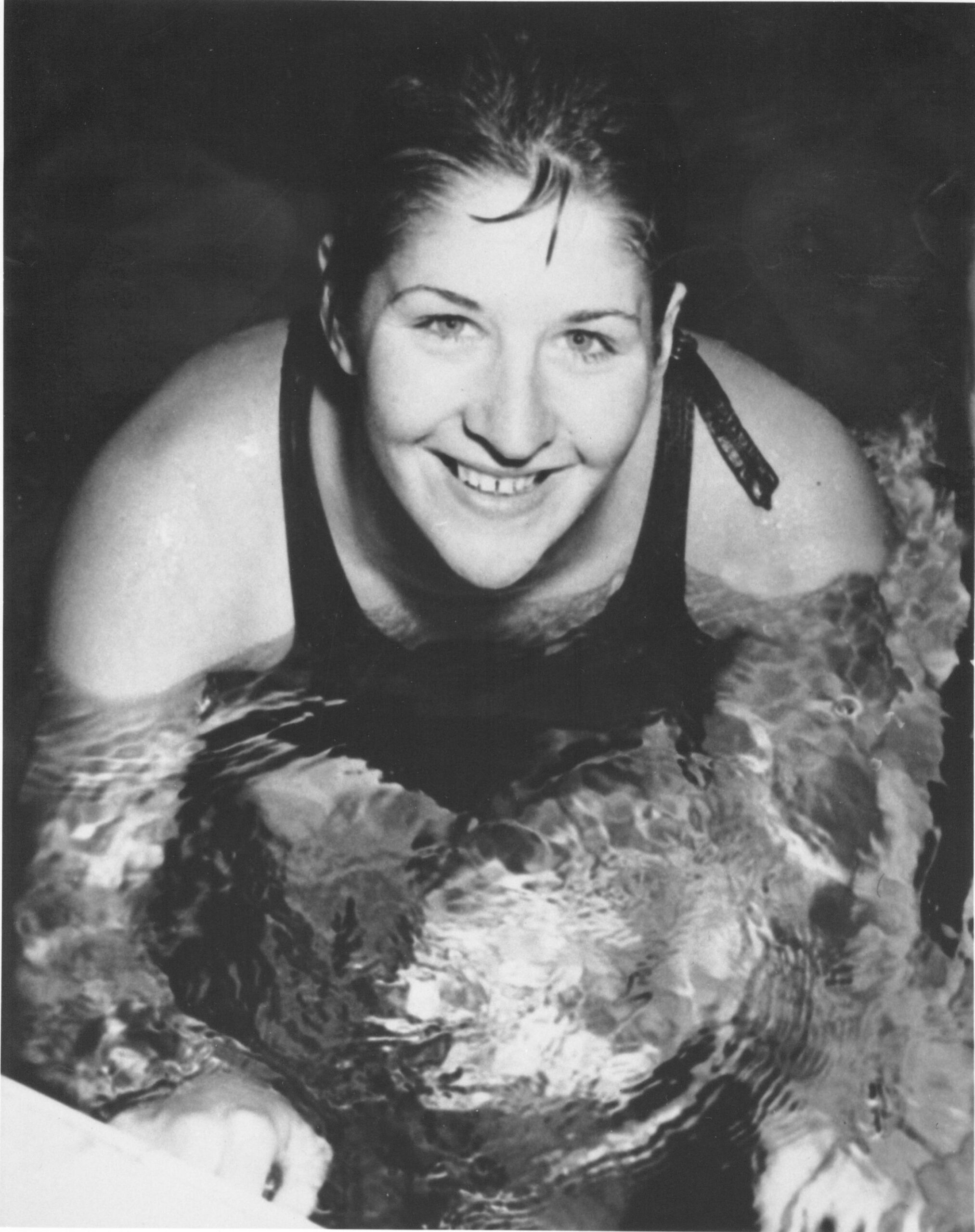 Dawn Fraser (AUS)
Honor Swimmer (1965)
The information on this page was written the year of their induction.
FOR THE RECORD: OLYMPIC GAMES: 1956 gold (100m freestyle; 4x100m freestyle relay), silver (400m freestyle); 1960 gold (100m freestyle), silver (4x100m freestyle relay; 4x100m medley relay), 5th (400m freestyle); 1964 gold (100m freestyle), silver (4x100m freestyle relay), 4th (400m freestyle); WORLD RECORDS: 100yd, 100m, 110yd, 200m, 220yd, 400m, 440yd freestyle.
Dawn Fraser is the female version of the water world's "fastest human" and has been for 10 years and three Olympics (Melbourne-1956, Rome-1960, Tokyo-1964). In winning the 100 meter freestyle at each of the last three Olympics, Miss Fraser beat the field in swimming's most popular and most fiercely contested event. When she broke her first Australian national record in 1955, she was already older at 17 than are most of our modern girl swimming champions when they retire. She was ten years older than when she won the Olympic gold medal at 27 in Tokyo. Her first world record was not in the 100 meters, but in the 220 yard freestyle at Sydney on February 25, 1956. She has since reduced this world record to 2:11.6 and still holds it although married, with a new baby and temporarily suspended from competition.
Dawn has frequently held the 440 yd., 400 meter, 220 yd., and 200 meter records and she has almost always held the 110 yd., 100 meter and 100 yd. records. In October 25, 1962, she became the first woman to break a minute for 100 meter freestyle and she was the only woman to break a minute for two more years until the U.S.A.'s Sharon Stouder did it at Tokyo, finishing second to "Old Ma" Fraser. Many believe that Dawn could win again in Mexico City in 1968 and perhaps somewhere else in 1972.
We may never find out because her good times are not all in the water. Her rule-breaking has been almost as dramatic as her record-breaking and she is currently under suspension by the Australian Amateur Swimming Association.
The Swimming Hall of Fame has no desire to become involved in Miss Fraser's disciplining problems, but to honor her as the world's finest ever woman freestyle sprinter during her long career of excellence when she was an amateur in good standing.