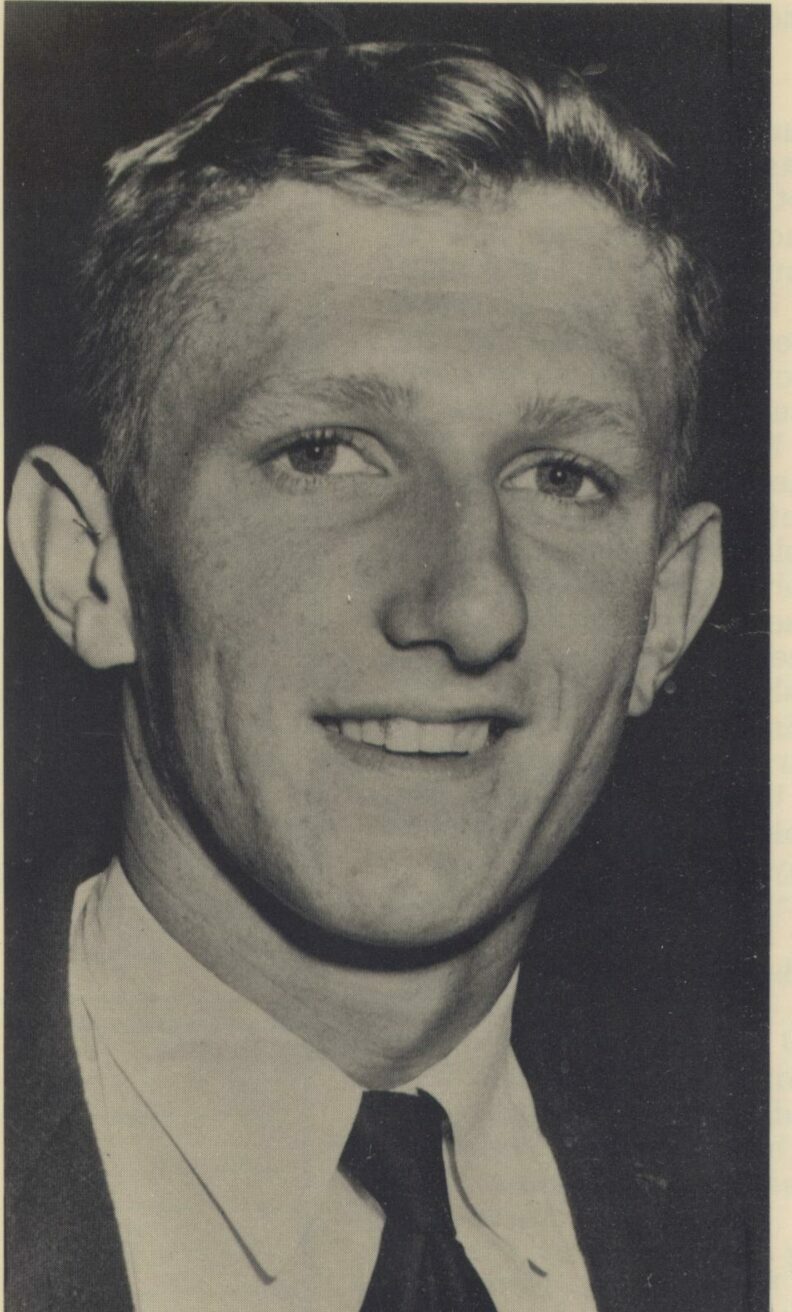 David Theile (AUS)
Honor Swimmer (1968)
The information on this page was written the year of their induction.
FOR THE RECORD: OLYMPIC GAMES: 1956 gold (100m backstroke); 1960 gold (100m backstroke), silver (4x100m medley relay); QUEENSLAND and AUSTRALIAN JR. CHAMPION: 1947; AUSTRALIAN SR. CHAMPION; 1955; AUSTRALIAN RECORDS: 1955 (100m backstroke).
Dr. David E. Theile is the only swimmer other than a freestyler to win gold medals in two successive Olympics since World War II. This Australian backstroker won gold medals in both the 1956 and 1960 Olympic Games. He is currently lecturer in surgery at the London Hospital (England) after an honors academic record at the University of Queensland and a Fellow of the Royal Australian College of Surgeons.
Dr. Theile began competitive swimming at 9, was Queensland and Australian Jr. Champion at 16, and began a five-year reign as Sr. Champion in 1955, at 17. When Thiele set the Australian 100 meter backstroke record at 1:07.4 in 1955, he was breaking a 17-year-old record set the year he was born (1:07.8 by Percy Oliver in 1938).
Thiele won the 100 meter backstroke crown at the 1956 Melbourne Olympics in world and Olympic record time, 1:02.2. At Rome in 1960, he lowered his Olympic record to 1:01.9 for a second gold medal and was part of the Australian silver medal medley relay.
Currently living in London with his wife and two children, David Theile joins Murray Rose and Dawn Fraser as Australian contemporaries honored in the Hall of Fame. Together with John Devitt, Jon Hendricks, Kevin O'Halloran, Gary Chapman, Lorraine Crapp, Faith Leech, Terry Gathercole, John Monckton, the Konrads Kids and a host of others, the Aussie swimmers of this 1956-'60 period represented a return to the world swimming dominance which Australia maintained at the turn of the century when Barnie Kieran, Freddie Lane and the Cavills were dominating the record books with something called the Australian Crawl.