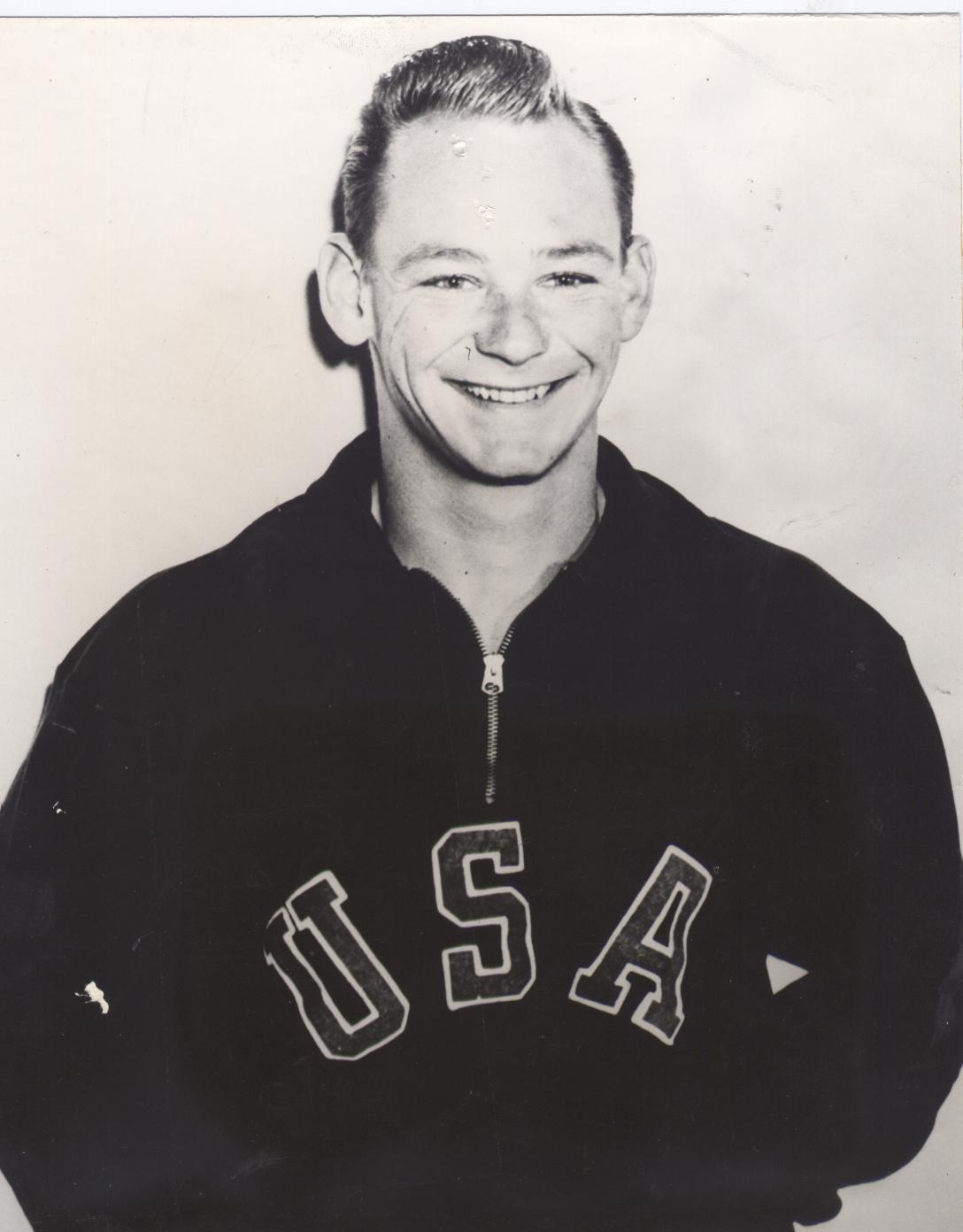 David "Skippy" Browning (USA)
Honor Diver (1975)
The information on this page was written the year of their induction.
FOR THE RECORD: OLYMPIC GAMES: 1952 gold (springboard); AAU NATIONAL SPRINGBOARD CHAMPIONSHIPS: 8; NCAA NATIONAL SPRINGBOARD CHAMPIONSHIPS: 2.
It always seems a greater shock when a young world champion athlete dies at the height of his super-active career. Such was the case of Lt. David Browning, 1952 Olympic Champion Springboard Diver. The 24-year-old Browning crashed with his Navy jet into the Kansas plain. It was just weeks before he was to be reassigned to Los Angeles where he would have begun training for the Melbourne Olympics favored to become the first man ever to win Olympic Springboard diving crowns at two Olympic Games.
Skippy "No Splash" Browning created few ripples and a lot of points when he dove. The only time he made "real waves" was when he shinnied up the pole to swipe an Olympic Flag in Helsinki. American coaches matt Mann and Mike Peppe had to get their Olympic Gold Medal Diver out of jail.
The foreign press at Helsinki called Browning's "absolute control in mid-air something we have never seen before." Skippy's dominance, even of the Ohio State divers, is demonstrated by his eight AAU and two NCAA National Springboard Championships. At the 1952 U.S. Olympic Trials in New York, Skippy won by 100 points.
Browning finished second to Ohio State's Bruce Harlan by.06 points in his first NCAA Championships as a sophomore. Harlan, A Hall of Famer and the 1948 Olympic Champion, was, like Skippy, killed in an accident. They are usually touted 1-2 or 2-1 on most modern coaches all-time springboard diver ratings. What swayed many judges to rate "no splash" Browning #1 on their all-time world diving lists was the blonde Texan's "phenomenal ability to knife into the water without a splash", according to Coach Hank Chapman. Some believed Skippy had peripheral vision so phenomenal that diving against him was "no contest". Browning put 2 dives in the books in the pre-Duraflex stiff board era: 2 1/2 twisting back 1 1/2 from the 3m. board and the forward 2 1/2 somersault pike off the 1 m. board.
As with so many top athletes, David "Skippy" Browning had a great many coaches who helped him, perhaps more so because he was the "great hope" to beat the Ohio State diving dynasty. Over a long period of time from the late 1930s through the late 1950s he was the only diver who ever did. His first most frequent coach was his father Dave, Sr., a former AAU National Junior Champion who began coaching his son at age four. As a young boy Skippy dove at camp for Matt Mann. Later he dove for Clarence Pinkston at the Detroit Athletic Club, for Wally Hoffrechter at the Dallas Athletic Club, for Tex Robertson and Hank Chapman at the University of Texas and for Yale's Phil Moriarty in St. Louis the summer before Skippy went off to the 1952 Olympics with Mike Peppe. These diving coaches all had one thing in common, they coached the world's top diver.
Browning put it all together. He did everything well in diving as in his short and popular life. Skippy Browning wore greatness with modesty and class.