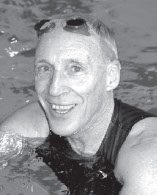 David Radcliff (USA)
Honor Masters Swimmer (2015)
The information on this page was written the year of their induction.
INTERNATIONAL HIGHLIGHTS: World Points-869, Pre 1986 Points-0, Total Points-869; Since 1995, he has competed in 5 age groups (60-64 through 80-85). 29 FINA MASTERS WORLD RECORDS.
You couldn't imagine a more beautiful place to learn to swim than Hayden Lake, Idaho, and that is exactly where David Radcliff fell in love with the water. After moving to San Diego during World War II, David began swimming competitively in high school and was a High School All-American in his Senior year. He swam for the San Diego Swimming Association for Coach Bill Lucas. He went on to compete in the Summer National LCM meets and for the University of California and was named All-American in 1954 and 1955.
In 1956, David Radcliff proudly represented the United States of America at the Olympic Games in Melbourne, Australia. After the Games, David was selected for a Goodwill Tour of Southeast Asia, sponsored by the AAU and the US Department of State. It was a trip that Dave would remember for the rest of his life. Especially for an event in Bombay where athletes from the USA and USSR, who were supposed to be sworn enemies, came together in a time of need and proved sports and athletics can overpower hate and the wills of high ranking men and government and become friends.
David returned to swimming thirty-eight years after he left it, when he joined the Tualatin Hill Barracudas Masters team in 1995. The next year, at the 1996 Short Course Masters Nationals, he stood on the blocks in the 500 free beside Buddy Belshe, exactly 45 years after the two raced against each other in the CIF finals of the 200 freestyle.
When it comes to competing, few can match his record as a competitor in the 70 plus age groups, and since turning 75 he has set world records in every freestyle event from the 100 to the 1500 in both yards and meters. At the 2014 Short Course Nationals in Santa Clara, he accomplished a feat never seen before in swimming, when he set four different national records for the 200, 500, 1000 and 1650 all in one race.
In the summer of 2015, David was one of six octogenarians to set the record for the oldest six man relay team to the Catalina Channel.
David says he enjoys Masters Swimming because of the friendships and the health benefits. Racing and competition are an added plus but they are not as important to him as working out with his friends. He says he hasn't been free of health problems, but says swimming has always helped him through the bumps.