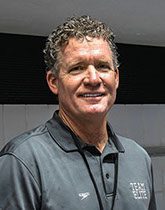 David Marsh (USA)
Honor Coach (2021)
The information on this page was written the year of their induction.
2016 WOMEN'S USA OLYMPIC TEAM HEAD COACH; THREE-TIME USA MEN'S OLYMPIC TEAM ASSISTANT COACH (1996, 2000, 2012); 2003 USA WORLD CHAMPIONSHIPS HEAD COACH; 1994 USA WOMEN'S ASSISTANT COACH-WORLD CHAMPIONSHIP; 2005 USA WORLD CHAMPIONSHIPS MEN'S ASSISTANT COACH; 1995 USA MEN'S PAN-PACIFIC TEAM HEAD COACH; 1999 USA MEN'S PAN-PACIFIC TEAM ASSISTANT COACH; 2014 USA WOMEN'S TEAM ASSISTANT PAN PAC CHAMPIONSHIPS; HEAD COACH AUBURN UNIVERSITY, WINNING (12) TWELVE NCAA CHAMPIONSHIPS (SEVEN MEN – 1997, 1999, 2003, 2004, 2005, 2006, and 2007 AND FIVE WOMEN – 2002, 2003, 2004, 2006, 2007); (6) SIX-TIME CSCAA MEN'S (1994, 1997, 1999, 2003, 2004, 2007) AND FOUR-TIME WOMEN'S COACH OF THE YEAR (2001, 2002, 2003, 2007); 2016: ONE OF THE PIONEERS OF PROFESSIONAL SWIMMING, ESTABLISHNG TEAM ELITE, ONE OF THE COUNTRIES FIRST PROFESSIONAL SWIM TEAMS.
David Marsh is considered one of the top coaches in swimming today. He skyrocketed to swimming fame in 1990 when he was named Head Men and Women's Coach of his alma mater, Auburn University.
Seven years later he went on a championship winning spree that was unparalleled. He led the Auburn men's team to seven NCAA National Championships and the women's team to five. Marsh is the most successful Auburn coach regardless of sport. He is arguably the most successful in the state of Alabama and the SEC with his 12 NCAA titles surpassing the six won by legendary football coach Bear Bryant at Alabama. Marsh has been called the Kingmaker of sprinters and during his tenure at Auburn, Marsh coached three of the fastest sprinters in the world, Cesar Cielo, Frederick Bousquet and George Bovell. Cielo broke the world record in the 50 free long course, on December 18, 2009 and the record still stands today.
In 2016, Marsh was named the Head Women's Swimming Coach for the U.S. Olympic Team after serving as the U.S. Assistant Coach to the Men in 1996, 2000 and 2012. Marsh's club team placed more athletes on the U.S. Olympic Team that headed to Rio than any other program in the U.S. Those names include Kathleen Baker, Cammile Adams, co-captain, Anthony Ervin, Jimmy Feigen, Ryan Lochte and Katie Meili, all earning gold medals. If his club team were a country, they would have placed third in the 2016 Rio Olympic medal standings. In all, the entire Team USA won the most medals in USA Swimming's already storied Olympic history.
In his early coaching career, Marsh implemented a technique focused program that has now become the model for countless programs around the globe. In the process, he was named USA Swimming's Developmental Coach of the Year for 2013 and 2014.
At the Senior and Elite level, he established and created the first USA Swimming Center of Excellence, now known as Team Elite. While medals are the goal in the pool for Team Elite, the highest calling for a member is to be a great role model for young swimmers and other age-group swimmers in the community. His goal is to give back to the sport he loves so much.
In May 2017, Marsh moved his Team Elite to San Diego, where he is now headquartered. In addition to coaching, Marsh is currently working on a project called "Coach Marsh Consulting". His consulting business has David sharing his knowledge by mentoring and developing coaches from all over the world, both formally and informally. Whether he is formally speaking or making a presentation, or just on deck with another coach, he is helping to shape the next generation of coaches.
He has coached more than 60 Olympians from 20+ different countries and his swimmers have combined to win 89 individual NCAA titles and 277 individual SEC titles. Auburn swimmers have also brought home 90 medals from international competitions such as the World Championships, Goodwill Games, Pan-American Games, and the Olympics.
Coach Marsh was inducted into the Auburn, American Swim Coaches Association and North Carolina Halls of Fame, and in December 2016, he was named "Professional Advisor" of the Israel Swimming Association. Most recently, he was named head coach for the LA Current of the International Swim League.