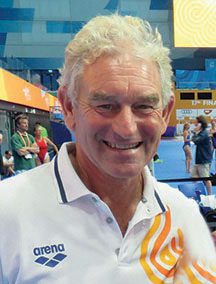 David Cotton (USA)
Honor Masters Diver (2021)
The information on this page was written the year of their induction.
INTERNATIONAL HIGHLIGHTS: 8 FINA MASTERS WORLD CHAMPIONSHIPS (2000, 2002, 2004, 2006, 2008, 2010, 2014, 2017); 2000 MASTERS WORLD CHAMPIONSHIPS – GOLD (10M) , SILVER (1M, 3M); 2002 MASTERS WORLD CHAMPIONSHIPS – GOLD (1M, 3M, 10M); 2004 MASTERS WORLD CHAMPIONSHIPS: SILVER (1M, 3M, 10M); 2006 MASTERS WORLD CHAMPIONSHIPS – GOLD (1M, 3M), SILVER (10M), WORLD RECORD (3M); 2008 MASTERS WORLD CHAMPIONSHIPS: GOLD (3M SYNCHRO) – SILVER (1M, 3M, 10M), WORLD RECORDS (3M SYNCHRO); 2010 MASTERS WORLD CHAMPIONSHIPS – GOLD (1M, 3M, 10M), BRONZE (3M SYNCHRO, 10M SYNCHRO); 2014 MASTERS WORLD CHAMPIONSHIPS – SILVER (1M, 3M), BRONZE (10M); 2017 MASTERS WORLD CHAMPIONSHIPS – GOLD (1M), SILVER (3M); TOTAL OF 26 MEDALS IN 1M, 3M, 10M, 11 GOLD, 12 SILVER, 3 BRONZE; 2 WORLD RECORDS; 4 AGE GROUPS (45-49 THROUGH 60-64)
They say Masters aquatics, whether it's swimming, diving, or whatever sport, keeps you young. David Cotton proves that he is still young at heart and it all has to do with his love of diving!
MISHOF's Class of 2021's Honor Diver did not begin competing on the Masters scene in diving until 1991-1992, but it was hardly the beginning of his career in the sport. He grew up in Marin County and attended Terra Linda High School, where he won the Marin County Athletic League (MCAL) in his Senior year. He went on to community college and was the 1- and 3-meter State Champion for the College of Marin in 1975.
David Cotton then headed south and attended Pepperdine University in Malibu, on a full athletic scholarship. He competed in NCAA Division 1 and graduated in 1978.
Cotton eventually went out to train under famed coach, Wally Nakamoto at the University of Hawaii, where he placed 12th at the U.S. Nationals on the 10-meter platform in 1980. He represented Team USA at the 1985 World Maccabiah Games in Tel Aviv, Israel, where he earned the 3-meter Springboard silver and 10-meter platform gold medals.
David began competing in Masters in the early 1990's. He attended his first USA Masters Nationals in 1992 and competed in the Pan Am Masters, the Masters World Games and has attended eight FINA Masters World Championships, winning 26 World Championship medals: 11 gold, 12 silver and three bronze. He has also set two world records. All totaled, Cotton has won 130 medals in Masters National and World Championship events: 58 Gold, 50 Silver and 22 Bronze.
Cotton also enjoys giving back. He has served as a judge for USA Senior Nationals, NCAA events, and is a certified FINA judge. David served as Masters Rules Secretary from 2006-2010. He organized and directed the 1999 and 2003 Masters Summer (Outdoor) National Championships in Honolulu, Hawaii, and was the Diving Director of the 2006 FINA Masters World Aquatic Championships held at Stanford University, California. He was a diving referee and judge at the 2005 World Masters Games held in Edmonton, Canada. Cotton also stays in touch with his roots and coaches diving at his own high school, Terra Linda as well as another local school, Novato High School.
Unfortunately, David has had six shoulder surgeries, three right and three left, and two dislocations. He'll tell you his second dislocation was on his favorite, 1-meter "signature" inward dive full twist at Worlds. He's decided feet first is now the way to go for him.
In addition to being a certified diving judge, he plays golf, tennis and rides a unicycle. He's a Realtor with Starboard Commercial Brokerage in San Francisco, has three amazing daughters, and is looking forward to his first grandchild.