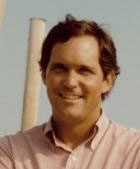 Dave Edgar (USA)
Honor Swimmer (1996)
The information on this page was written the year of their induction.
FOR THE RECORD: 1972 OLYMPIC GAMES: gold (4x100m freestyle relay), fifth (100m butterfly); TWO WORLD RECORDS: 4x100m freestyle relay; 1971 PAN AMERICAN GAMES: gold (4x100m freestyle relay); ONE U.S. AAU NATIONAL CHAMPIONSHIP: 100m freestyle; SEVEN NCAA NATIONAL CHAMPIONSHIPS: 50m & 100m freestyle, 4x100m freestyle relay.
One second does not mean much to most people. Before they can think about it, it's gone. But to Dave Edgar, it was his swimming career. As one of the world's greatest short course sprinters, it was always Dave's goal to cut just one more second from the one hundred, or fractions of a second from the fifty. And that is exactly what he did to become the world's fastest short course swimmer.
He started swimming for Hall of Famer and coach Jack Nelson in Ft. Lauderdale, and while at Ft. Lauderdale High School set the national high school 50 yd. freestyle record at 21.2 seconds. It was here in 1968, that University of Tennessee coach Ray Bussard recruited Edgar for Tennessee. Very quickly, Edgar gained control of the world of freestyle sprinting better than anyone since Hall of Famers Steve Clark or Jeff Farrell had done, less than a decade earlier.
It was while at the university that Edgar learned the Tennessee Freestyle Turn which soon became one of the most copied flip turns. He was the first to use it and to polish it, and by mastering the turn, he cut valuable time off of his records. Coach Bussard said, "David was in a class all by himself. He never questioned. He just did." And Edgar became the first man under 45 seconds for the 100 yd. freestyle.
In 1970, Edgar began a three year, never-before-accomplished feat of winning both the 50 yd. and 100 yd. freestyles at the NCAA Championships, the most exciting short course meet in the world. To do it, he had to beat the great Mark Spitz, 7-time gold medalist at the 1972 Olympics, each of the years 1970, 1971, and 1972. He also beat world record holder Jerry Heidenreich of Southern Methodist University and 1971 Pan American Games five-time gold medalist, Frank Heckle of the University of Southern California. Edgar proved time and again his superiority in short course sprinting at a time when FINA did not recognize short course world records as it does today.
Edgar served as captain of the Tennessee team, and he emphasized SPIZZERINCTUM to the team – the will to succeed. Before the University of Florida dual meet, he said to his team, "This is my first time to swim in the pool of my home state and I'm going to swim darn fast – you guys better do the same." He did, with a 43.3 second relay split in the 100 yd. Freestyle, and his teammates did too, winning the meet.
David Edgar had a natural feel for the water in both freestyle and butterfly. He beat Mark Spitz again in the 100m free in Mark's home pool at the 1971 Santa Clara Invitational, and he qualified for the 1972 Olympic Games in the 100m butterfly, placing fifth in this event which he rarely swam. Dave was a member of the 4x100m freestyle relay team which won the gold medal and set the world record in Munich. All total, Dave won gold medals at the 1972 Olympics and 1971 Pan American Games, set two world records in the relays, and won seven NCAA National Championships. He only lost one 50 yd. race in a seven year period, and that was due to a faulty starting block. We can recognize Edgar as one of the greatest short course pool swimmers on record.