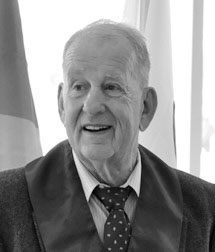 Dale Petranech (USA)
Honor Contributor (2014)
The information on this page was written the year of their induction.
FOR THE RECORD: 35 YEARS ADMINISTRATOR FOR OPEN WATER SWIMMING: 1977 to Present; CHAIRMAN AAU NATIONAL LONG DISTANCE COMMITTEE: 1977-1979; CHAIRMAN UNITED STATE SWIMMING LONG DISTANCE COMMITTEE (1979-1991); CHAIRMAN OF FIRST FINA COMMISSION TO STUDY ADDING OPEN WATER SWIMMING TO OLYMPIC AND FINA PROGRAM: 1984-1992; APPOINTED TO FINA'S FIRST TECHNICAL OPEN WATER SWIMMING COMMITTEE: Honorary Secretary (1992-1996); GUIDED FORMATION OF WRITING RULES FOR INTERNATIONAL OPEN WATER SWIMMING; SERVED OVER 30 YEARS AS OPEN WATER EVENT OFFICIAL AND OFFICIAL FINA OBSERVER; CHAIRMAN NATIONAL AQUATIC COALITION: 1996-1998; HONORARY SECRETARY INTERNATIONAL MARATHON SWIMMING HALL OF FAME: 1998 to Present.
Dale Petranech has been a leading figure, promoter, historian and organizer of Open Water Swimming competitions in the United States and around the world for the past 35 years. He has accepted every challenge head on and is well respected internationally for his work.
He began his administrative career in 1977, when he was selected to be chairman of the first USA Swimming Open Water Swimming Committee and developed successful domestic and international programs. After organizing an "unofficial" marathon exhibition during the Los Angeles Olympic Games, in 1984, Dale urged FINA President Bob Helmick to establish a FINA Open Water Swimming Commission, to study adding Open Water Swimming to the FINA and Olympic programs. Under Dale's leadership as chairman, the commission developed FINA's first set of rules and procedures, which led to the formation of the FINA Technical Open Water Swimming Committee. As that committee's Honorary Secretary, Dale helped set the agenda, which included adding the 25K marathon swim to the program of the 1991 FINA World Aquatic Championships in Perth, Australia. He helped to write the accepted and standard international rules and served in many capacities internationally as an event official, from clerk of course to assistant referee, to FINA special observer. He also presided over many FINA Open Water Clinics, served on the organizing committees for the FINA Manhattan Island and Absecon Island Swims and mentored younger members of the committee to attain future leadership roles.
After the death of Commander Gerry Forsberg in 1998, Dale assumed the role and duties of Secretary General for the International Marathon Swimming Hall of Fame, and since then has been responsible for formulating the nomination ballots and for organizing the annual IMSHOF induction.
An accomplished open water swimmer in his own right, Dale became the oldest person to swim the 21 mile Catalina Channel, at the age of 50, in 1985. In order to preserve Marathon Swimming history, Dale is working to publish the personal files of the, now deceased, Joe Grossman, the World Professional Marathon Swimming Association Administrator.