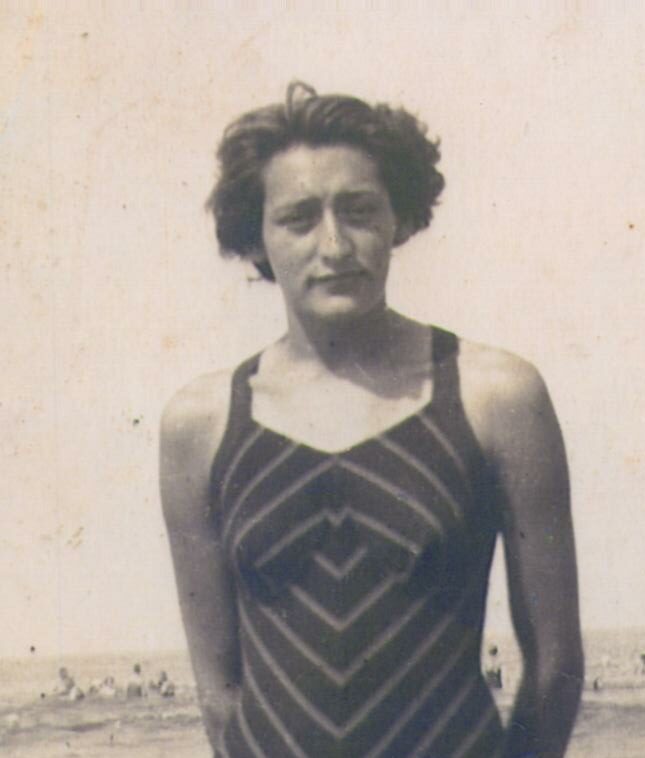 Cor Kint (NED)
Honor Swimmer (1971)
The information on this page was written the year of their induction.
FOR THE RECORD: WORLD RECORDS: 100m backstroke (stood for 21 years); 150 yd, 200m backstroke (stood for 11 years).
Her name appears on no Olympic roster, yet Cor Kint may be the greatest of all the great Dutch girl swimmers whose names show up so prominently in the World Record Books from the middle 1930s through the middle 1950s.
Cor Kint came along too late for the 1936 Olympic Games dominated by Dutch girl swimmers and she was gone before the 1948 Games, but she most assuredly would have made the war-cancelled 1940 and 1944 teams. The fairest way to rate such a war-cancelled swimmer is by the times she swam in the pool, and here is where Cor Kint outshines even her illustrious Hall of Fame countrywomen, Rea Mastenbroek and Willie den Ouden. Other Dutch girls Sis Braun, Olympic champion 1932, Senff and Mastenbroek 1–2 in 1936, Van Feggelen and Wielema have set World Records in backstroke as have the great Danish swimmers of the 30's and 40's, and the South African, Dutch and English girls of the 50s. None equaled the time swum by Miss Kint on September 22, 1939. Her backstroke record of 1:10.9 for 100 meters stood 21 years until finally broken by the great American swimmer, Lynne Burke at the 1960 Rome Olympic Games.
Her times for 150 yard backstroke and 200 meter backstroke stood up eleven years until Wielema, another Dutch champion, beat them in 1950. Another mark of Kint's greatness was it took her only 2 months to break the 200 meter backstroke record of Ragnild Hveger, the great Danish champion and Hall of Famer. Most of Hveger's freestyle records stood 10 and 15 years.
Cor Kint is honored by the International Swimming Hall of Fame because her record stood up longest in a modern era where 21 days, much less 21 years, is a long time to stay on the World record board.