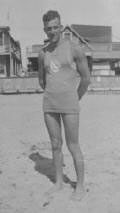 Clyde Swendsen (USA)
Honor Pioneer Diver (1991)
The information on this page was written the year of their induction.
FOR THE RECORD: OLYMPIC GAMES: 1920 member Olympic Water Polo Team; 1936 Olympic Water Polo Coach, bronze medal; Coach of four Olympic diving gold medalists (1924, 1928, 1932, 1936); NATIONAL AAU TITLES: 3 (high diving and springboard); Coach of the Los Angeles Athletic Club 14 years; FRED A. CADY MEMORIAL AWARD 1932, 1936.
Coach Clyde A. Swendsen may be the only man to have coached Olympians in swimming, diving, and water polo as well as having competed as an athlete in Olympic competition. The versatility of this Californian is phenomenal. Throughout his career, he taught over 75,000 youngsters to swim and coached 17 of his athletes to the Olympic Games.
Clyde began diving in 1914 and won nine AAU Diving championships on both the springboard and platform. In addition to diving, he played water polo and was a member of the 1920 U.S. Water Polo Team. His prowess continued when the water polo team he coached was selected as the U.S. entry for the 1932 Olympic Games, a team that went on to win the bronze medal. Clyde was also the coach of the 1936 polo team.
His swimming champions include Buster Crabbe, who moved to Los Angeles from Hawaii, and Johnny Weissmuller, who already was an accomplished swimmer when he trained under Swendsen. Swendsen's diving pupils make up an impressive set of four Olympic champions: Better Becker Pinkston (1924, 1928), Harold Dutch Smith (platform) and Mickey Reilly (springboard) (1932), and Dorothy Poynton (1932, 1936). Swendsen is credited with creating the back somersault, reverse one and one half, reverse double somersault, and the one and one-half back somersault.
During his career Swendsen coached 14 years at the Los Angeles Athletic Club and the Hollywood Athletic Club and five years each at UCLA and Hollywood High School. He coached nine national A.A.U. championship teams and has had a national champion in every swimming and diving event as well as water polo. Clyde also spent three years (1947-1950) in Guatemala as the National coach, a team which he developed from nothing to a second place finish at the Central Caribbean Games