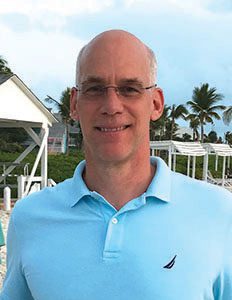 Clay Britt (USA)
Honor Masters Swimmer (2021)
The information on this page was written the year of their induction.
INTERNATIONAL HIGHLIGHTS: 23 FINA MASTERS WORLD RECORDS, 8 LONG COURSE AND 15 SHORT COURSE FINA BACKSTROKE AND I.M. MASTERS WORLD RECORDS. IN WORLD RANKINGS SINCE 1988, HE HAS 15- NUMBER 1, 17- NUMBER 2, AND 7- NUMBER 3 LONG COURSE RANKINGS AND 26- NUMBER 1, 8- NUMBER 2, AND 14- NUMBER 3 SHORT COURSE RANKINGS. HE COMPETED IN THE 1988 FINA MASTERS WORLD CHAMPIONSHIPS WINNING 2 GOLD AND 3 BRONZE MEDALS. HE LAST COMPETED IN 2018
Clay has always loved racing, even as a six-year-old with the Montgomery County Swim League, just outside Washington D.C. He was a natural racer, and began breaking records, some of which still stand today. Upon graduating from the Bullis School in 1979, he was awarded a scholarship to the University of Texas to swim for the great Eddie Reese. He began his collegiate career with the Longhorns by winning the NCAA title in the 100 yd Backstroke in his freshman year, followed by wins in his sophomore and junior years as well.
Clay Britt was a favorite to make the U.S. Olympic Team, but just before the 1980 Olympic Games, the Soviet Union invaded Afghanistan and President Jimmy Carter announced the U.S. would boycott the games in Moscow. The effects of that decision are still being dealt with today, over forty years later, by Olympic hopefuls like Britt. "It's just a shame that politics got in the way of people's life dreams and the ramifications of that still reverberate decades later," he said. "In swimming, it's every four years. That's your shot. That window is so small to make and to lose that opportunity was very difficult."
Britt attempted unsuccessfully to qualify for the 1984 Olympic games but was glad he at least tried. He retired after the Olympic Trials with no plans to ever swim again. A few months after the Trials, still living in Dallas, he was a bit lost on what to do after life as a swimmer. When a friend asked him to join him for a swim, Clay agreed. He jumped in, swam 2000 yards and knew he'd never give it up again. He felt like his old self again and began swimming with a Masters team in the Dallas area.
He competed in the 1988 Olympic Trials but did not qualify for the team. He said that he didn't swim badly, it's just that everyone else got a lot faster.
His very first real Masters meet was at the FINA World Championships in Australia. He happened to be travelling in Australia, entered the meet, "won a couple of races" as he says, and was hooked. He broke his first Masters World Record in the 50m backstroke in 1989.
He eventually moved to Washington D.C. to take a new job and joined a local Masters group – the Montgomery Ancient Mariners -and made a set of friends who he would train, travel and socialize with for the next 30+ years.
Britt has set 23 Masters World Records and competed in seven different age groups beginning in the 25-29, and now in the 60-64 age group. He was in the Top Ten every single year he competed from 1998 through his final year in 2018. His World Rankings are in the backstroke, the butterfly and the I.M. Britt turned 60 in 2020, which marked 54 straight years of competing competitively. He has recorded 281 individual Top Ten times, set 49 individual USMS records, and been a 28-time individual pool All-American.
Competing and winning are not as important to him as they once were. Now, swimming after a long day helps him relax and recharge. He says: "It is such a great feeling to step up on the blocks and lay down a good swim. That's why I couldn't leave the sport."