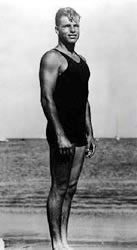 Clarence "Buster" Crabbe (USA)
Honor Swimmer (1965)
The information on this page was written the year of their induction.
FOR THE RECORD: OLYMPIC GAMES: 1928 bronze (1500m freestyle), 4th (400m freestyle); 1932 gold (400m freestyle), 5th (1500m freestyle); WORLD RECORDS: 16; NATIONAL RECORDS: 35; World's Fair Aquacade star; Buster Crabbe's Aquaparade; Actor starring in Buck Rogers, Flash Gordon, Tarzan and Captain Gallant.
As "Flash Gordon" and as "Buck Rogers", actor Buster Crabbe conquered space before there were any astronauts. He also conquered the Sahara Desert as "Capt. Gallant" and the jungle as "Tarzan". But Crabbe's real life heroics as an Olympic swimmer are no less spectacular than his record on film and TV.
Buster Crabbe was born Clarence Linden Crabbe in Oakland, California. When he was 18 months old, his family moved to the Hawaiian Islands, where his father became overseer at a pineapple plantation. Buster learned to swim at the age of five. At Puna Hou High School in Honolulu, he was a 16-letter man. He won a letter every year in football, basketball, track and swimming.
He returned to the mainland to attend the University of Southern California in Los Angeles and while a first year law student there, he won a place on the U.S. Olympic swimming team. He won the 400 meter title. His swimming accomplishments include 16 world and 35 national swimming records.
His Olympic swimming prowess catapulted Crabbe into the movies. First signed by Paramount Pictures, he appeared in nearly 170 pictures for top Hollywood producers and was every kind of a hero from space idol "Buck Rogers" to legionnaire "Captain Gallant". He was the seventh in a long line of "Tarzan"s. Number 13 currently is swimming through the cinematic jungle. Ironically Crabbe's only role as a heavy was opposite his old pal Johnny Weissmuller in a stinker called "Swampfire" which ended in a great water battle. Who won? "Buster let me have a few good ones", says Johnny. "The script called for me to win, but the water was 54 degrees so we both turned blue."
Not long ago, stories appeared in the American press about how the Russians had just discovered a new film here — "Tarzan", performed by Crabbe. The pictures were in their first run in the Soviet Union. Before his Captain Gallant television series, Crabbe toured the U.S. and Europe for 5 years with his Buster Crabbe's Aquaparade. He starred in the World's Fair Aquacade in New York before World War II. His present interests include the Buster Crabbe Swim Pools and a summer camp for boys, Camp Meenahga — meaning "blueberry", near Saranac Lake, New York.