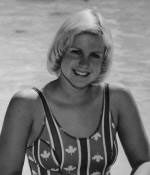 Cindy Nicholas (CAN)
Honor Open Water Swimmer (2005)
The information on this page was written the year of their induction.
FOR THE RECORD: 19 Crossings of the English Channel; First Woman Two-Way Crossing of the Channel (1977); Women's World Professional Swimming Champion (1976); A Record Five Two-Way Crossings of the Channel; "Queen of the English Channel" (1977-1992).
The English Channel is one of the world's most treacherous and fearsome bodies of water to swim. Ever since Matthew Webb's first crossing in 1875, less than 20% of swimmers who attempt the channel complete it. But over a period of nine years, Cindy Nicholas completed 19 crossings which included five double crossings, two of which were in the same year, 1982.
Born in Toronto in 1957, Cynthia Maria Theresa Nicholas, taught by her dad, Jim, learned to swim at age two and a half. She began competing at age five and reached her peak as an age-group swimmer while in the 11-12 age group, when she held 16 Ontario and Canadian records in freestyle, butterfly and backstroke events. She was the Ontario provincial champion in 1968 and 1970. She competed in the Canadian National Championships as well as the Olympic Trials of 1972.
Her switch to marathon swimming came when she was 16 and it occurred quite suddenly. One day father and daughter were looking down at the vastness of Lake Ontario and talking about Marilyn Bell, Ontario's and Canada's heroine who first swam the lake in 1955. "We thought, wouldn't it be nice if I did it", said Cindy.
On August 16, 1974, with a compass, a 10-foot wooden dinghy, a 10-hp. outboard motor, a reporter from the Toronto Globe and Mail who was pursuing a scoop, a sack of leftovers from the fridge and no idea at all what they were doing, Jim and Cindy set out for the starting point at Youngstown, N.Y., 32 miles across the lake from Toronto. Arriving there at 2 a.m., Cindy talked two boys with a larger boat into accompanying them in exchange for free gas, and they were off. At 8 a.m. the boys announced they had to leave and for the next five hours the little party was alone, far from the sight of shore. Finally, with 14 miles to go, the pilot of a small plane noticed them and spread the word that someone was trying to swim the lake. Because nobody had attempted it for 13 years, the news stirred up some excitement on the waterfront, and before long a flotilla of small boats had appeared to escort Cindy the rest of the way.
She finished at Ontario Place, site of the Canadian National Exhibition in the center of Toronto's lakefront, in 15:10, breaking the record for a crossing. A marathon swimmer was born and the next logical step, if continuing in marathon swimming, was to go to the White Cliffs of Dover and swim the English Channel.
The next year, 1975, July 29-30, before she had even heard of Gertrude Ederle, 17 year old Cindy swam the Channel, France to England in a woman's record time of nine hours 46 minutes, the second fastest time amongst the men, and a women's record which lasted for 13 years until broken in 1988. Cindy was the sixth Canadian to complete the France to England direction of the Channel (Winnie Roach, 1951; Marilyn Bell, 1955; Jacques Amyot, 1956; Claudia McPherson, 1963; and Robert Cossette, 1964). She was the recipient of the Captain Matthew Webb Silver Salva Award for the fastest women crossing that year. Later in October, she completed a record swim in the 25K International Race in Syria. Cindy went back to the Channel every year from 1975 through 1982. In 1976, she swam the Channel two times, England to France, and kept her completion times within four minutes of each other (10:20 and 10:24). She was only the second Canadian to swim the Channel from England to France (Jacque Amyot, 1975).
In the summer of 1976 she crossed the Channel twice and also found time to compete in the World Professional Marathon Swimming Federation tour in Canada earning the women's title of World Professional Marathon Champion. She was the first woman finisher (5th overall) in the 21 mile Lac St. Jean, Quebec crossing (9:14.31) and first female in the 16 mile Chibougamau, Quebec swim, which consisted of three races in one day with a two hour break between each race (10 miles, 5 miles, 1.5 miles).
In 1977, Cindy again swam the Chibougamau, Quebec and finished second in the three races. She also finished second in the Lac St. Jean race, placing her as runner-up in the World Professional Marathon Tour. On August 7th, she was the first woman to swim across the 14.9 mile Chaleur Bay from Grand Anse, New Brunswick to Paspebiac, Quebec, in a record time of 7 hours 22 minutes in 55 degree F water.
One month later, she was back at the English Channel rushing off Dover's Shakespeare Beach on her way to swim to France and back. The First Woman and youngest ever to swim a two-way crossing of the Channel, she set a new record for men and women of 19 hours 55 minutes, breaking Jon Erikson's record by 10 hours 5 minutes. She split an 8 hours 58 minutes over and 10 hours 57 minutes return. Only four others, all men, had ever completed a two way crossing of the channel. Now, with a total of five Channel crossings, she tied Greta Anderson with the most crossings ever accomplished by a woman. That year she received the Satiraki Trophy for the fastest female crossing of the year. She was voted the Canadian Woman Athlete of the year and the Ontario Athlete of the Year.
In 1978, she competed in the 24 Hour La Tuque, Quebec race, earning the best women's circuit average, the 25 mile Lac St. Jean race and the Chaleur Bay swim where she became the first woman to swim both ways and did so in a time of 14 hours 54 minutes for the 50K swim. Then she went back to the English Channel to break Greta Anderson's number of Channel crossings with six crossings, this the most difficult of her swims when she was hit by an unpredicted storm of 8 foot swells all the way across and had to cover 30 miles for a 20 mile distance at 2 .5 miles per hour. Her time for the France to England swim was 12 hours 15 minutes.
Cindy went back to the Channel for another four years and swam the Channel another 13 times. As having swum the most crossings by a female, she kept the title "Queen of the Channel" from 1977 through 1992, 16 years, until broken by Alison Streeter (GBR). With additional two-way crossing in 1979, 1981 and two in 1982, Cindy holds the record for the most two-way crossings for men and women with a total of five. Her support crew, as always, was her Dad, Jim, and mother, Vickie.
Veteran Channel boat pilot Val Noakes guided her on his boat Fair Chance for most of her swims. She swam through jelly fish, oil slicks, seaweed and even contracted schistosomiasis, a tropical disease that causes high fever, diarrhea, fatigue and discomfort in the areas of liver and intestines, while in a place in Egypt's Nile River. But she always kept her stroke rate at 84 to 88 strokes per minute regardless of conditions. And although she never really liked cold water, she could spend hours in water that was 50-55 degrees Fahrenheit.
Cindy will be recorded as one of the great marathon swimmers. She could cross large bodies of water in solo swims and also race with the best of them.
Cindy was a lawyer in Scarborough, Ontario, having obtained degrees at the Universities of Toronto and Windsor, a member of the Order of Canada, and was elected to serve as a member of the Provencal Parliament in the riding of Scarborough Centre from 1987 to 1990.
Cindy died from liver cancer on May 19, 2016.