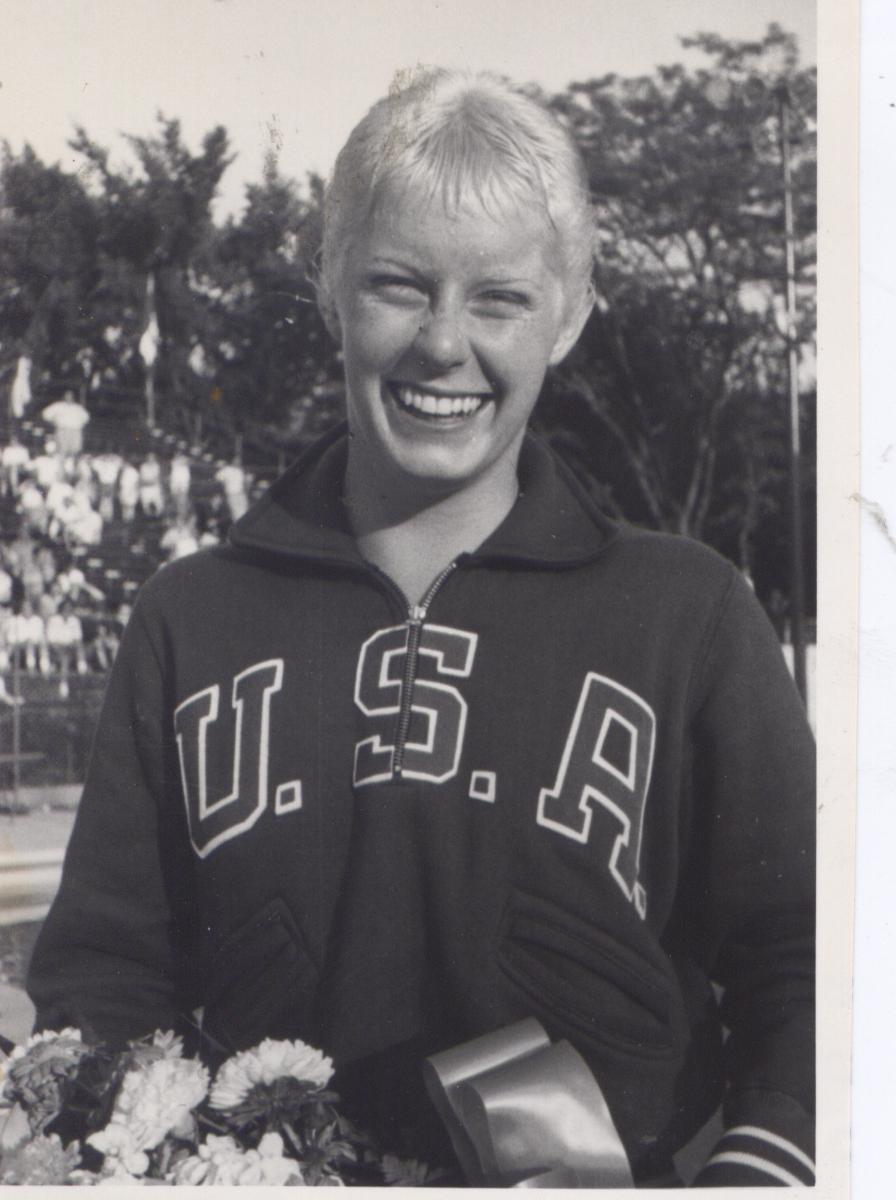 Chris von Saltza (USA)
Honor Swimmer (1966)
The information on this page was written the year of their induction.
FOR THE RECORD: OLYMPIC GAMES: 1960 gold (400m freestyle; 4x100m freestyle relay; 4x100m medley relay), silver (100m freestyle); WORLD RECORDS: 4; U.S. NATIONAL CHAMPIONSHIPS: 32
Chris von Saltza was valedictorian of the first big group graduating from the Age-Group swim program. She held 4 world records and 32 American records in an era when FINA no longer accepted as world records our world's fastest times done in the traditional American 25 yard (short course) pools.
Chris was picked as the outstanding girl swimmer of the 1960 Rome Olympics for her 3 gold medals and a silver. Her 4:44.5 world record for the 400 meter freestyle ended the domination by Australian girls in freestyle swimming and set standards ten seconds faster than the next fastest Americans were swimming. Earlier, she had been the first American girl to break 5 minutes.
While considered primarily a classic crawl swimmer, Chris also held the world record in the 200 meter backstroke. She won the maximum allotted four individual events plus relays in several U.S. Nationals, sparking her Santa Clara Swim Club to team victories. Her performances in 1960 were considerably ahead of the U.S. competition and helped spark the current renaissance in U.S. swimming.
An anxious mother once asked Chris' doctor father how he could let his daughter swim so hard for so long, "Madam," he said, "the longer the distance, the better the von Saltza."
In route to the Olympics, Chris won five gold medals in the 1959 Pan American Games. Retiring one year after the 1960 Rome Olympics, Chris entered Stanford, majoring in Asian History. She took a leave of absence during 1963-64 to be a coach-consultant in Asia in the American Specialist Program under a State Department grant. She visited and taught competitive swimming in South Korea, the Philippines, South Vietnam, Malaysia, Hong Kong and Taiwan. Chris was an assistant chaperone-coach for the U.S. girls at the 1968 Mexico Olympics.