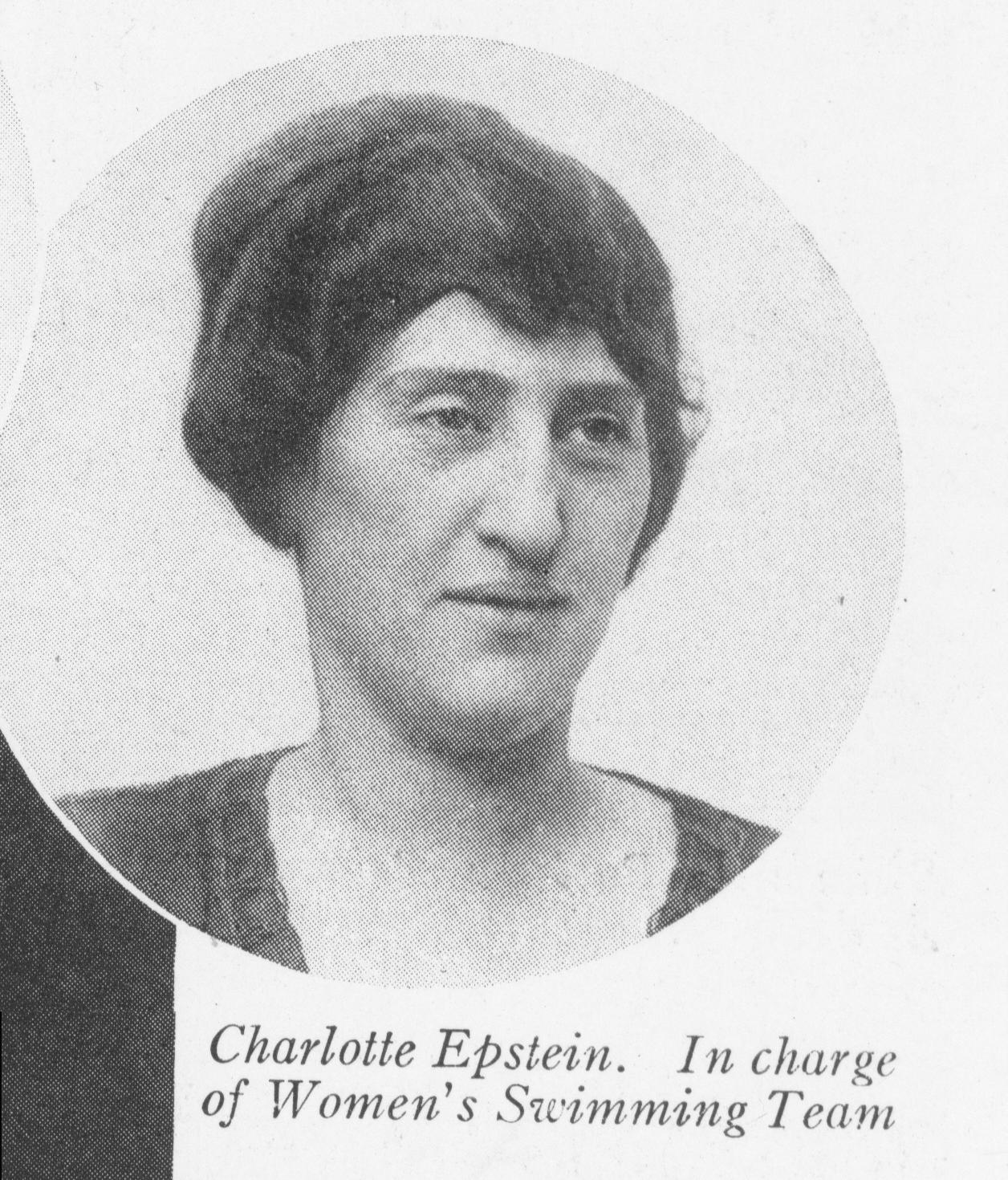 Charlotte Epstein (USA)
Honor Contributor (1974)
The information on this page was written the year of their induction.
FOR THE RECORD: OLYMPIC GAMES: 1932 U.S. Women's Olympic Swim Team (Assistant Manager); Organizer and administrator of New York Women's Swimming Association (WSA); During her 22 years with the WSA, her swimmers held 51 world records, 202 individual AAU Women's National Senior Championships in swimming and diving; 30 National championship relay teams, Olympic medals in swimming and diving.
The story of Charlotte Epstein is the history of U.S. women's Swimming until the time of her death in 1938. "Eppy", as her long curvy line-up of women's swim champions called her, started the famed WSA (Women's Swimming Association) in New York City. She was the organizer, the manager, the continuity and the tenacity that made it go and kept it going. Charlotte Epstein, a court reporter by profession, worked behind the scenes on her swimming hobby. Her name and face were seldom in public print. She was assistant manager of the 1932 U.S. Women's Olympic Swim Team, the first woman to be named for such an honor, but her principal contribution to U.S. and World Swimming is the record of her club and her swimmers. In 1916 the first AAU Women's National Champion Hall of Famer Claire Galligan was an "Eppy" swimmer at WSA. So were the girls who won 201 other individual AAU Women's National Senior Championships in swimming and diving–all this in an era when there were fewer events in the Nationals.
Eppy's success could be attributed to her swimmers and to L. de B. Handley, her volunteer coach. Her success as an administrator was her ability to bring so many champions together and keep them swimming. She would have been the first to pass the credit on to Elsie Veitts Jennings, her more diplomatic protégé, to Coach "Lou" Handley, and to her all-star honor roll of Olympic and National Champions. Her girls held 51 world records yet they were first, last, and always team swimmers, as their competition would attest with envy. WSA put together 30 national champion relay teams during Eppy's 22 years with Women's Swimming Association. Only WSA won the women's national long distance team title for the first 13 years of the competition. Even Olympic divers swam on relays, and twice Aileen Riggin and Helen Wainwright achieved Olympic medals in both swimming and diving. No other women swimmers before or since have attained world class excellence to this degree of versatility. And any coach's girl who wanted to try her luck in a National against WSA swimmers had better be tough because Eppy gave no quarter. Always it was the results, not her personal glory, that mattered to Charlotte Epstein.