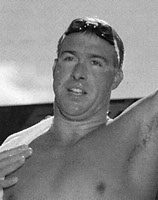 Chad Hundeby (USA)
Honor Open Water Swimmer (2012)
The information on this page was written the year of their induction.
FOR THE RECORD: WON ALMOST EVERY MAJOR RACE IN THE WORLD; 1994 ESTABLISHED ENGLISH CHANNEL CROSSING RECORD FOR MEN: Seven hours 17 min; IMSA/FINA WORLD SERIES CHAMPION THREE TIMES; 1993 RECORD BREAKING SWIM ACROSS CATALINA CHANNEL.
Chad Hundeby attended the Blue Buoy Swim School in Tustin, California whose motto is "Great Beginnings Lead to Great Finishes." The school has produced a handful of world-class athletes including Jason Lezak. Hundeby and Lezak both learned to swim at the age of three. Chad went on to become an outstanding swimmer at Woodbridge High School, and advanced to the college ranks at Southern Methodist University. When he failed to make the 1988 Olympic Team, it was a blessing in disguise as he turned his attention from the pool to open water swimming. Hundeby became one of the world's best marathon and open water swimmers in history.
In 1991, he won the first FINA World Open Water Championships, a 25 kilometer race down the Swan River in Perth, Australia, where thousands of spectators lined the course. He finished in a remarkable time of just over five hours. He was honored as USA's Open Water Swimmer of the Year in 1991, 1993 and 1994 and was the IMSA/FINA World Series Champion three times.
In 1993, he set the Catalina Channel record at eight hours, 14 minutes from the island to the mainland. When Hundeby decided to swim the English Channel in 1994, he didn't set out to break the record that his coach Penny Lee Dean had set 16 years earlier, "I just wanted to get across," he said. But break her record he did, streaking across the shipping lane from Dover, England to Cap Gris Nez, France in seven hours and 17 minutes, a great finish that knocked 23 minutes off Penny's record. "You couldn't ask for a nicer person to destroy your record" she said. The record held for 21 more years.
Anyone who knows Hundeby knows he does not seek the spotlight. Modest and humble in nature, yet competitive and fierce when swimming. He is a great finisher and a great competitor.