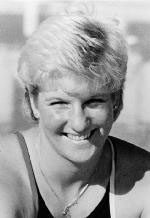 Carrie Steinseifer (USA)
Honor Swimmer (1999)
The information on this page was written the year of their induction.
FOR THE RECORD: 1984 OLYMPIC GAMES: gold (100m freestyle, 4x100m freestyle relay); 1983 PAN AMERICAN GAMES: gold (100m freestyle, 4x100m freestyle relay, 4x100m medley relay); 1987 PAN AMERICAN GAMES: gold (4x100m freestyle relay); TWO U.S. NATIONAL CHAMPIONSHIPS: 100m freestyle.
Carrie Steinseifer is a wonderful example of the old fashioned values of swimming, one club, one coach, parents as mentors and role models and lots of hard work and determination.
Carrie's swim with fame began at age 11 when she started swimming for Ken Belli (now retired) at West Valley Aquatic Team in the San Francisco Bay area. It was a small club where Carrie got lots of attention as one of the only Senior National qualifiers in the history of the team. Steinseifer credits Belli and her 110% trust in him for her success. His philosophy was to train for the 200 and swim the 100. Belli had always seen the stars in Steinseifer's eyes. He helped her realize her potential. The duo provided once again that one swimmer can make it with her original coach and club.
Carrie's national experience began in 1982 and soared upwards to the Olympic gold just two short years later at the 1984 Los Angeles Olympics. In 1983 she was the 100 free national champion and won three golds at the Pan Am Games. She was ranked number one in the USA and fourth in the world. As the favorite going into the 1984 Olympics, Carrie and Hall of Famer Nancy Hogshead made Olympic swimming history together. The two competitors, who shared a room at the Olympic Village, tied for the gold in the 100 free; it was the first time that two gold medals were awarded in the same swimming event. Sixteen year old Steinseifer won a second gold in the 4×100 free relay, becoming the youngest swimming gold medalist at the 1984 Games. "I still get choked up when I hear the National Anthem."
Steinsefer continued to swim after the '84 Games and won the Nationals in 1985, a gold in the 1987 Pan Ams and two NCAA titles with Richard Quick in the University of Texas.
Carrie remembers fondly how her dad, promoted to president of his company, used to bring her to every practice at 5:30 a.m. in his business suit. He was a scholarship diver at Oregon State who met her mom on a blind date. Bob used to model Jantzen swimsuits at Mr. Jantzen's home 50 years ago. Ironically today Carrie is the sports marketing manager for Nike Swim, who bought out Jantzen years ago.