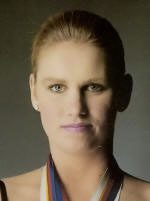 Carolyn Waldo (CAN)
Honor Synchronized / Artistic Swimmer (1994)
The information on this page was written the year of their induction.
FOR THE RECORD: 1984 OLYMPIC GAMES: silver (solo); 1988 OLYMPIC GAMES: gold (solo, duet); 1982 WORLD CHAMPIONSHIPS: bronze (figures); 1986 WORLD CHAMPIONSHIPS: gold (solo, duet, figures, team); 1983 PAN AMERICAN GAMES: gold (team); 1987 PAN AMERICAN GAMES: silver (team).
She came, she smiled, she conquered–Canada's Carolyn Waldo, Honor Synchronized Swimmer.
"Championships in anything are a by-product," said the late great swimming coach and Hall of Famer Matt Mann. A by-product of preparation and readiness for life. This is certainly true of Carolyn Waldo, the Canadian who dominated synchronized swimming at the 1988 Seoul Olympics.
Carolyn was prepared and ready when her big chance came. Yes, in the synchronized swimming world, but also in a broader role as Canada's super hero. The whole country's honor and confidence were held to their world's fastest human Ben Johnson and took a severe beating when their hero was disqualified. Fortunately, Carolyn Waldo was there to take his place as their country's Olympic giant. She qualified in every way, a beautiful, articulate and certainly all winning personality. Carolyn became the best in the world as the first Canadian woman ever to win two gold medals at one Olympics. Her victories in the solo and duet were decisive.
It was not a moment of surprise, but the culmination of hard work, having started her synchro career in 1975 at age 11. She became a national team member at 15 and was a six time world champion. At age 20, Carolyn won silver medals in the Los Angeles Olympics and put in more hard work to win golds at the World Championships at Madrid. In 1988, in Seoul, where she was Canada's first woman flag bearer in the Opening Ceremonies, Carolyn confidently took on the world, flip flopping the silver for the gold with Tracie Ruiz, the American who had been the synchronized champion in the previous games. Carolyn's performance made her Canada's first woman double gold medalist in any sport (solo and duet with Michelle Cameron). For this achievement she was named Canadian Athlete of the Year for an unprecedented second time.
Carolyn is now a TV host, Olympic anchor woman and has her own line of clothes for Sears Canada, and like Johnny Weissmuller, Buster Crabbe and very few others, her glamour has continued to grow since she retired from the sport that made her famous.