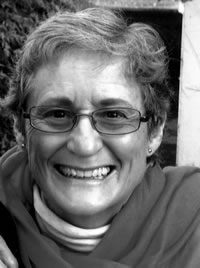 Carolyn Boak (USA)
Honor Masters Swimmer (2012)
The information on this page was written the year of their induction.
INTERNATIONAL HIGHLIGHTS (Swimmer): World Points – 800, Pre-1986 Points-163. Total Points – 963. Since 1978, she has competed in 8 age groups (30-34 thru 65-69); 28 FINA MASTERS WORLD RECORDS
Carolyn Ferris Boak comes from one of the premier swimming families of northern California. Swimming under the legendary Sherm Chavoor at the Arden Hills Swim and Tennis Club, the sister-brother trio of Carolyn, Joan and John Ferris were among the top swimmers in the country at age group and national meets. But like most girls in the pre-title IX era, Carolyn's swimming career ended with high school graduation.
Carolyn attended the University of California at Berkeley, graduating in 1966. She married soon after and spent several years as an elementary school teacher. Then came three children – Jenny, Andy and Dawn – and years as a stay-at-home mom. After a divorce, Carolyn went back to college, earned a BS in Nursing, and began a second career as a psychiatric nurse.
It wasn't until 1977 that Carolyn began swimming again – as a USMS swimmer with Los Altos Masters. In time she became the president of the club and even served a stint as interim coach while setting national and world Masters age group records in the pool.
In 1989, Carolyn married fellow swimmer and former USMS President, Tom Boak, and eventually moved to Texas where together they have helped build the highly successful Woodland Masters Swim Team.
Carolyn has been in the Top 10 rankings 27 times since 1978. She has set 21 long course and nine short course FINA Masters World Records in the IM, freestyle, butterfly and breaststroke. She has attended four World Championship meets in Brisbane, Montreal, Indianapolis and Stanford, where she set four world records. Boak has won at least two titles at every USMS Championship she has attended and has won all six of her events at USMS Nationals 16 different times.
Within USMS, she was the meet director for the 1987 USMS Nationals at Stanford, which was at the time the largest Masters Nationals ever held. She has served as Chair of the International Committee, was a member of the Rules, Championship, Recognition & Awards committees, as well as the Ad-Hoc ISHOF committee. In recognition for all she has done for USMS, Carolyn received the prestigious Ransom Arthur Award in 2001.
Boak says that she met the love of her life through Masters swimming, created and maintained wonderful friendships and has kept emotionally and physically fit through her workouts.