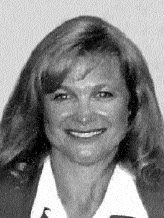 Carol Fitzsimmons (CAN)
Honor Synchronized / Artistic Swimmer (2007)
The information on this page was written the year of their induction.
INTERNATIONAL HIGHLIGHTS: 1994, 1996, 2000, 2002, 2004 Masters World Championships: gold (Solo, Duet, Team– at each Masters Championships); 11 Canadian National Masters Championships: solo
She began her competitive career in 1969 at the age of nine under the watchful eye of her mother and coach Hilda Moore. She experienced her first advanced competition in 1971 when she was chosen to represent Prince Edward Island at the Canada Winter Games shortly after her 10th birthday. She continued to embrace everything synchro, enjoying a successful career as a member of the Calgary Aquabelles and eventually, the Canadian National Team.
In 1983, she retired and turned to coaching where once again she stood out. She received Canadian Junior Coach of the Year in 1987. Near the same time, unable to resist the competition, she joined Masters.
Since 1994, Carol Fitzsimmons has enjoyed winning most every event she's entered – solo, duet and team. Swimming for the Calgary Aquamarine Club, Carol has competed at all but three Alberta Masters Provencial Championships from 1988 to 2005, winning all gold medals. She has competed in 11 Canadian Masters National Championships since 1991, winning all of the solo, duet and team events she entered but one.
She received the Master's Athlete of the Year in 1996. In 2002 she was proudly inducted into the Prince Edwards Island Sports Hall of Fame. She continues to give back to the sport she loves coaching others.