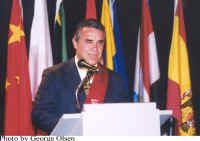 Carlos Giron (MEX)
Honor Diver (2001)
The information on this page was written the year of their induction.
FOR THE RECORD: 1968, 1972, 1976, 1984 OLYMPIC GAMES: participant (springboard & platform); 1980 OLYMPIC GAMES: silver (springboard), 4th (platform); 1975 WORLD CHAMPIONSHIPS: bronze (platform);1975 PAN AMERICAN GAMES: gold (platform), bronze (springboard); 1979 PAN AMERICAN GAMES: silver (platform), bronze (springboard); 1977-1981 ISHOF INTERNATIONAL MEET: 5 golds, 1 bronze (springboard, platform); 1976-1978 CAN-AM-MEX CHAMPIONSHIPS: 2 gold, 3 silver (springboard, platform); 1981 FINA CUP: gold (springboard); silver (platform); 1981 WORLD MALE SPRINGBOARD DIVER OF THE YEAR.
Longevity and consistency in diving are what separated Carlos Giron from his competitors. He was always in top international form beginning with his first Olympic Games in Mexico City (1968) and extending every four years to Munich (1972), Montreal (1976), Moscow (1980) and Los Angeles (1984). He was at his best for over 16 years. His main event was the 3m springboard, but he could dive almost equally as well on the platform.
Carlos was competing during an era of outstanding Hall of Fame divers which included: Greg Louganis (USA), Klaus Dibiasi (ITA), Phil Boggs (USA), Falk Hoffman (GDR), Vladimir Vasin (URS) and Georgio Cagnotto (ITA). His Olympic medal came in 1980 in Moscow when he won the silver on the 3m springboard. The next year, 1981, he was elected the World Male Springboard Diver of the Year.
Preceding the Moscow Games, Carlos won a gold, silver and two bronze medals in the 1975 and 1979 Pan American Games losing only to Louganis, Boggs and Tim Moore (USA). During a five-year period in the USA International Meet 1977 – 1981, he won five gold and one bronze medal. He won two gold and one silver in the 1976 – 1978 CAN-AM-MEX Championships, and at the 1981 FINA Cup he won the 3m springboard gold medal and 10m platform silver medal. He has been many times Central American and Caribbean champion and medal winner at meets in the GDR, Russia, Czechoslovakia and Finland.
He attended dental school at UCLA receiving a diploma in dental prosthesis. He also attended sports administration courses at University of Texas in Austin, Sport Schule Institute in Berlin, Germany, and University la Salle in Mexico City.
In public life after swimming, Carlos has been Mexico City's Area Director for Consumer Organization, Agricultural and General Services Head of Transportation and Mexican Social Security diving teacher and coach. He is President of the Mexican Association of Olympic medalists and a triple world Masters diving champion (1985).