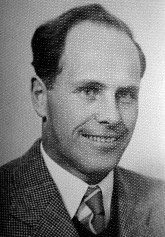 Carlo Dibiasi (ITA)
Honor Pioneer Coach (2006)
The information on this page was written the year of their induction.
FOR THE RECORD: ITALIAN NATIONAL DIVING CHAMPION and 1936 OLYMPIC DIVER; 1960's, 1970's and 1980's ITALIAN TEAM: Coach; COACH of TWO OLYMPIC DIVERS: Klaus Dibiasi and Giorgio Cagnotto.
Carlo began his diving career as a competitor in the 1930's winning many Italian National Championships and competing on the 1936 Olympic Team. His personal participation prepared him to become Italy's diving coach.
Known as "Papa" Dibiasi he developed his son, Klaus Dibiasi and Giorgio Cagnotto, two of the greatest divers during the 1960's and into the 1980's. Klaus competed in four Olympic Games (1964-1976) winning the platform gold medal in his last three Olympics and two silver medals on the 1964 10m platform and one on the 1968 3m Spring Board event.
Klaus was considered the world's greatest diver during his career winning five medals in four Olympic Games. As written in the Guinness Book of Records he is the only diver to win the same event in 3 Olympic Games, – the 10m Platform. During the first two World Championships 1973 and 1975 he also won two gold medals in the platform event and two silver medals in springboard. Giorgio Cagnotto finished second to his teammate but competed on five Olympic teams through 1980 winning four Olympic Medals, two silver and two bronze.
Carlo Dibiasi leaves a legacy that will long be remembered in the sport of diving.