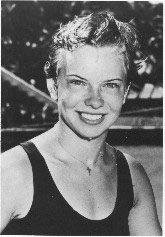 Carin Cone (USA)
Honor Swimmer (1984)
The information on this page was written the year of their induction.
FOR THE RECORD: OLYMPIC GAMES: 1956 silver (100m backstroke); WORLD RECORDS: 7 (100m, 100yd, 220yd backstroke; 1 relay); PAN AMERICAN GAMES: 1959 gold (100m backstroke; medley relay); AAU NATIONALS: 16 (100yd, 110yd, 200yd, 220yd backstroke); AMERICAN RECORDS (Short Course): 10 (100yd, 150yd, 200yd backstroke); AMERICAN RECORDS (Long Course): 14 (100m, 200m 220m backstroke; 1 relay).
Carin Cone literally came on like a hurricane to win her first Senior National Championship in the 200yd backstroke. It was at Philadelphia in the middle of a hurricane in August, 1955. Two days later she won the 100 back, an event in which she continued undefeated in the Nationals, Indoor & Outdoor, for the next five years. Her moment of greatest triumph and yet disappointment was at the 1956 Olympics where she and Judy Grinham (Great Britain) had identical times, and yet the judges picked Judy first. Carin won 16 Nationals and set four World and 24 American records all in backstroke. This "queen of backstrokers" in her time, like Eleanor Holm and Gloria Callen before her, and Lynne Burke afterwards, was also a cover girl supreme. The four of them, all from the New York area, were on more magazine covers than four full-time models, which all were invited to be. Carin had just two coaches in Marie Giardine at the Women's Swimming Association in New York and Phill Hansel at the University of Houston. Perhaps Carin Cone's finest year was 1959 when she began by winning both women's backstroke titles at the Indoor AAU meet. In July, Carin lowered her own World's Record in the 220yd backstroke, slicing more than three seconds from her 1956 time. Two months later at the Pan American games in Chicago, Carin won the 100m backstroke title, and also established a world's record of 1:11.4 on the lead off backstroke leg in the medley relay. She retired from competitive swimming in 1960. In 1962 she married Al Vanderbush–Army's football co-captain and all-American guard.