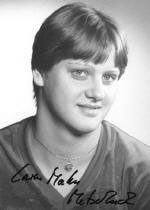 Caren Metschuck (GDR)
Honor Swimmer (1990)
The information on this page was written the year of their induction.
FOR THE RECORD: OLYMPIC GAMES: 1980 gold (100m butterfly; 2 relays), silver (100m freestyle); WORLD RECORDS: 3 (relays); EUROPEAN CHAMPIONSHIPS: 8 (100m freestyle; 100m butterfly; relays).
Caren Metschuck began swimming at age eight and two years later joined the SCEmpor-Rostock Sports Club and went to the youth sports school in Rostock. While other swimmers may have stayed on top of the victory stand more years than Caren, few were hung with more medals while they were standing atop the number one spot. At the World Championships in Berlin in 1978, Caren settled for a silver medal in her first World Championships. Four years later on the way out, she won a gold in the 400 meter freestyle relay at another World Championship. In the years between, Caren won three golds at the European Cup in the south of France. Her splits at Split (Yugoslavia) were golden in both the 400 meter freestyle and medley relays. She even added an individual gold in her favorite event, the 100 meter freestyle. While considered a sprint freestyler, which she proved she was with wins, world records or world's best times in eight international meets, she won her Moscow Olympic gold in the 100 meter butterfly in a 1-2-3 East German sweep. Her greatest swims were short course in the U.S. Open Invitational where she twice dominated the freestyle sprints, setting the world's best 50 meter time (records) in both 1981 and 1982. She also set an East German 100 meter butterfly record in the 1982 meet and won the 100 meter freestyle both times.
Doping Disclaimer: In a German court of law, after this swimmer was inducted into the International Swimming Hall of Fame, team officials confessed to administering performance enhancing drugs to this swimmer, who therefore obtained an illegal and unfair advantage over other athletes. For more information, click here.