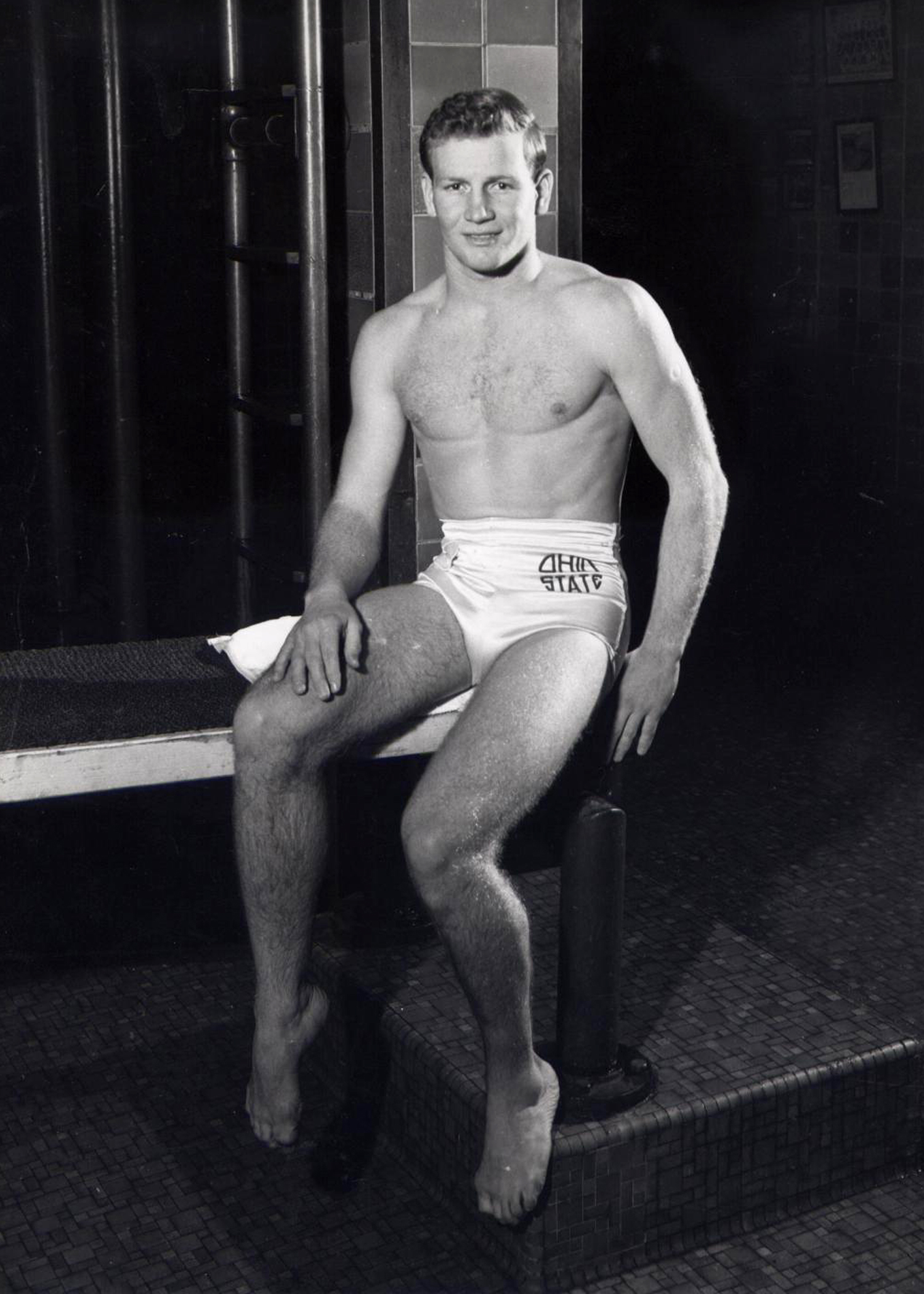 Bruce Harlan (USA)
Honor Diver (1973)
The information on this page was written the year of their induction.
FOR THE RECORD: OLYMPIC GAMES: 1948 gold (springboard), silver (platform); NCAA Titles: 5; National AAU Titles: 9; BIG TEN Titles: 5; Diving coach at University of Michigan: 1954 to 1959.
Bruce Harlan was a wrestler, and pole vaulter, at Lansdowne Pennsylvania High School . . .graduating into the Navy in 1944 where he became an Athletic Specialist in the "Tunney-Fish" program named after its organizer Gene Tunney.
His skill at diving was observed by Ensign Adolph Kiefer who took him to his first national Indoor AAU Championships at the New York Athletic Club (1945). This was the last Nationals at which Bruce Harlan failed to place.
In the Spring of 1945 he was sent to duty at the Jacksonville, Florida Naval Air Station where he was coached by Lt. R. Jackson Smith.
Under Smith's tutelage Harlan soon became one of the nation's most outstanding divers, climaxing his Navy duty by capturing his first National AAU 3 meter springboard title at San Diego during the summer of 1946, winning by a close margin over Ohio State's perennial intercollegiate diving champion Miller Anderson.
That fall, Bruce Harlan enrolled at Ohio State joining Anderson, Jack Calhoun, and Jim Strong to form the strongest combination of divers in the nation. Repeatedly, these boys achieved top honors in AAU and Intercollegiate competition.
While at Ohio State, under Mike Peppe, Bruce captured a total of 19 individual diving titles form 1947 through 1950, including 5 Big Ten, 5 NCAA, and 8 NAAU plus Olympic gold and silver medals at the 1948 Olympics.
After graduate work at Stanford and High School coaching at Redwood City, California, Bruce coached at the University of Michigan from 1954 to 1959 when his untimely death terminated a coaching career as brilliant as his diving. Giving a diving exhibition with Hobie Billingsley on the evening of June 21, 1959 at the Fairfield Country Club (Fairfield, Conn.), Bruce fell from a 27′ diving tower while dismantling the scaffolding they used for the exhibition.
He had continued to dive as a professional and was said to be the finest diver in the world and was diving the best of his career at the time of his death.