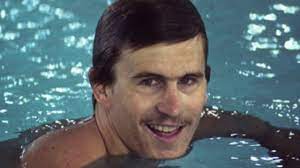 Bruce Furniss (USA)
Honor Swimmer (1987)
The information on this page was written the year of their induction.
FOR THE RECORD: OLYMPIC GAMES: 1976 gold (200m freestyle; 1 relay); WORLD CHAMPIONSHIPS: 1975 gold (relay), silver (200m, 400m freestyle); 1978 gold (relay); WORLD RECORDS: 10 (200m freestyle; 200m individual medley; 5 relays); AMERICAN RECORDS: 19 (200m, 200yd freestyle; 200m, 200yd, 400yd individual medley; 9 relays); AAU CHAMPIONSHIPS: 11 (200yd, 500yd freestyle; 200m, 400yd individual medley); 7 relays); NCAA CHAMPIONSHIPS: 6 (200yd freestyle; 4 relays); KIPHUTH AWARD: 1975, 1976.
Bruce Furniss coped with painful arthritis using swimming as a remedial exercise. That he enjoyed himself during a twelve year career and turned his therapy into a successful competitive swimming career is an understatement. This younger brother of Pan American champion and world record holder, Steve Furniss, set out to own the 200 meters. He won two Olympic gold medals in world and Olympic record times in the 200 and in the 800 freestyle relays at Montreal and broke his brother Steve's world record in the 200 individual medley. Twice he was high point winner at the U.S. Nationals and twice he was picked as World Swimmer of the Year in the 200 freestyle and individual medley. His world record total of ten included both 400 and 800 freestyle relays at the World Championships in Berlin. He added 19 American records including ten in yard distances which were the world's fastest times.
Bruce, as an age grouper under Tom DeLong, Flip Darr and Jon Urbanchek, as a Senior National AAU swimmer with Dick Jochums, and as a college swimmer with Peter Daland, certainly added to the reputation of these distinguished coaches. During much of Bruce Furniss' career he swam tired, without the benefit of a good night's sleep. On trips he usually roomed with his best pal, Tim Shaw, a character who rarely needed more than six hours sleep and did most of his talking to roommates late at night.