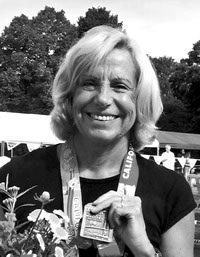 Brigitte Merten (GER)
Honor Masters Swimmer (2012)
The information on this page was written the year of their induction.
INTERNATIONAL HIGHLIGHTS (Swimmer): World Points – 970, Pre-1986 Points-0, Total Points – 970. Since 1972, she has competed in 5 age groups (40-44 thru 60-64); 25 FINA MASTERS WORLD RECORDS.
Brigitte Merten's parents, Herta & Heinrich Lochter were both enthusiastic swimmers and volunteers at the historic swim club Poseidon Berlin, where Heinrich was president.
Because of her parent's passion, Brigitte grew up around the water. She learned to swim at age five in the Baltic Sea and entered her first competitions at 12. She won the first of 50 titles at 18 and started setting national records the next year, specializing in the individual medleys.
After completing her college degree, she began a career in biological and chemical research, and in 1977 she married Klaus Merten, a successful swimmer she had met during a competition. Together they swam at the SG Neukölln Berlin until their son Florian was born in 1981, when her focus switched towards family, home and profession.
Brigitte's international masters career started with the first European Championships in Blackpool 1987 as swimming once again became a priority in her life. But it took until the 1996 Sheffield World Championships, when she was in the 50-54 age group, to break an individual world record in the 200m IM. That meet broke the ice. At the following 12 European Championships she won 42 gold medals and broke an additional 25 world records.
Together with the entire family, Brigitte has traveled to every FINA World Championships since 1992. All totaled Brigitte has won 25 gold, 15 silver and seven individual bronze – and seven gold medals in relays. At Sheffield in 1996 and Munich in 2000 she won four gold and one silver at each. A special occasion was the 1997 Pan Pacific Games in Maui, where she was able to swim and win in six events. In 53 German Masters Championships (short and long course) she has won 220 titles and 153 records so far. She is especially proud of her accomplishments at the 2004 World Championships in Riccione, where Brigitte became world champion with her husband Klaus in the 4 x 50m Medley Relay (age group 200-239).
The Mertens have always combined the swim meets with travelling and exploring the respective countries.
Through Masters swimming she has had a lot of fun with her teammates in Germany and has made life long friends with swimmers from all over the world.
Over the years Brigitte received numerous recognitions for her accomplishments in swimming by her local swim club, the city/county of Berlin and the German Swimming Federation.
Tragically, one week before the announcement of IMSHOF her beloved husband Klaus passed away at the beginning of the 2012 World Championships in Riccione. He always supported her swimming ambition and would be proud of this honor.