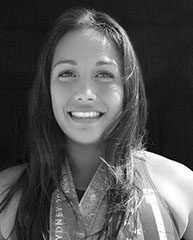 Brenda Villa (USA)
Honor Water Polo (2018)
The information on this page was written the year of their induction.
FOR THE RECORD: 2000 OLYMPIC GAMES: silver (team competition); 2004 OLYMPIC GAMES: bronze; 2008 OLYMPIC GAMES: silver; 2012 OLYMPIC GAMES: gold; 2003 WORLD CHAMPIONSHIPS: gold; 2005: WORLD CHAMPIONSHIPS silver; 2007 WORLD CHAMPIONSHIPS: gold; 2009 WORLD CHAMPIONSHIPS: gold; 2003 PAN AMERICAN GAMES: gold; 2007 PAN AMERICAN GAMES: gold; 2011 PAN AMERICAN GAMES: gold; 2002 FINAWORLD CUP: silver; 2010 FINA WORLD CUP: gold; 2004, 2006, 2007, 2009, 2010, 2011, 2012 FINA WORLD LEAGUE: gold; 2008 FINA WORLD LEAGUE: silver
Brenda was five years old when her parents, immigrants from northern Mexico, took her to the pool so she wouldn't be afraid of the water like her mother. After two years on the swim team, they reluctantly allowed her to follow her older brother, Edgar into the rough and tumble sport of water polo. This was before the explosion of girls water polo programs and Brenda practiced with and competed mostly against boys. It didn't take long for her to realize that she was as good, if not better than most of the boys.
Brenda had to play on the boys team in high school, because there was no girls team, but the competition improved her game and helped her develop the smarts, instincts and toughness that contributed to her becoming one of the best players in the world, male or female.
While Brenda enjoyed water polo and excelled in the classroom, her goal from at least the age of 12, was to attend Stanford University on a swimming scholarship. But that goal changed in the fall of 1993 when Stanford announced it was starting a women's water polo team.
Following her freshman year in High School, Brenda was selected for the U.S. Junior Women's National Team. After playing in the 1995 Junior World Championships, where she was selected for the All-World Jr. Team, Women's National Team Coach Sandy Nitta moved her up to the Senior National Team. Two years later she was the U.S. team's leading scorer at the 1997 FINA World Cup.
While Brenda enjoyed wearing the red, white and blue and traveling around the world, her top goal was to play water polo for Stanford. In the fall of 1997, during her senior year in high school, the International Olympic Committee announced that Women's water polo would join the 2000 Olympic program. She reset her goal higher, it was also to win an Olympic gold medal for the USA. She just had no idea then that it would take 14 long years to do it.
When Brenda entered Stanford in the fall of 1998, it was as the nation's most heralded recruit. To pursue her new goal she had to red-shirt her first two years to prepare for the Olympics, an opportunity that was anything but assured.
There were two chances for teams to qualify for the 2000 Olympic Games. When the USA failed to qualify at the FINA World Cup in May of 1999, it came down to a last chance qualification tournament in Palermo, Sicily in April of 2000. In what was a do or die game against Hungary, it was a goal by Brenda that broke a 5-5 tie late in the fourth quarter to earn the USA a ticket to Sydney.
In Sydney, Team USA reached the gold medal match and it came down to last minute heroics again, but it was not to be, as Australia scored a game winner at the buzzer.
Finally, in the spring of 2001, Brenda played her first game for Stanford. During her three years playing for Cardinal, she would twice be named player of the year and led Stanford to its first women's NCAA title in 2002.
After graduating from Stanford, Brenda played professionally in Europe and coached in the off season as Team USA dominated the world of women's water polo. In the first decade of the new millennium, the USA won three world championships, seven World League Super Finals and numerous other tournaments. The Olympic Games remained a disappointment, with a bronze medal in Athens and silver again in Beijing.
Then came London. After 17 years on the national team, Brenda, once the youngest player on the team was now the captain. Only Heather Petri, two years older, remained from Sydney. Once again, behind a new coach, Adam Krikorian, and an infusion of new talent, Team USA entered the 2012 Olympic Games as the favorite, and this time they didn't disappoint. Brenda and Team USA finally got the gold with an 8 to 5 victory over Spain.
Brenda has received numerous awards and recognition over the course of her incredible career, but none mean more to her than the City of Commerce naming the pool she grew up swimming in, the Brenda Villa Aquatic Center.
Today, Brenda and her husband Gino are the proud parents of a baby girl, Gianna. They live in northern California where Brenda continues to share her passion for excellence and love of water polo through coaching, personal appearances and her work with several non-profit foundations.