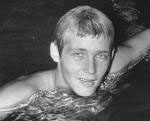 Brad Cooper (AUS)
Honor Swimmer (1994)
The information on this page was written the year of their induction.
FOR THE RECORD: 1972 OLYMPIC GAMES: gold (400m freestyle); TWO WORLD RECORDS: 400m, 800m freestyle; 1973 WORLD CHAMPIONSHIPS: silver (400m freestyle), bronze (1500m freestyle); 1974 COMMONWEALTH GAMES: gold (200m backstroke), silver (400m freestyle), bronze (100m backstroke).
The men's 400 freestyle was swimming's four minute barrier until it was broken in 1973. This classic of middle distance events had become an obsession for many of the great coaches and swimmers. Johnny Weissmuller first bettered five minutes in the 1920s. The '50s brought Australian Murray Rose with two Olympic victories in the 400 in 1956 and 1960. He bettered the time to 4:13.4, but by 1967, just seven years later, 25 swimmers in the world had swam faster than 4:08.1 and a half dozen were within fractions of a second off the magic four minute barrier.
In the early '70s, Brad Cooper of Australia was one of the most likely candidates. He broke the 400 free world record in 1972, but didn't break the barrier. In one of the greatest freestyle races at the Munich Games, Brad Cooper, leading most of the final 200 meters, was out touched by Rick DeMont by one hundredth of a second. Due to Rick's asthma medication, he was stripped of the gold medal, and it was awarded to Brad Cooper. Actually, Cooper's time was an Olympic record on its own, and it was a bittersweet victory for Brad.
One year later in a rematch at the 1973 World Championships, Cooper, trailing DeMont, made a final burst of speed in the last 30 meters. DeMont wanted to win and got it, but they both broke the four minute barrier. Cooper took silver with a time of 3:58.70. He also won a bronze in the 1500 free.
Cooper's versatility in the distance events was again proven one year later at the Commonwealth Games in 1974. Cooper, proving he still had it in him, won the gold in the 200 back, a silver in the 400 free and a bronze in the 100 back. From 200 to 1500 distances, Brad Cooper was a force to be reckoned with in all international events during the early 1970s.
During his career, Brad assembled two world records in the 400 and 800 free before retiring in 1974, shortly after his Commonwealth Games victories.