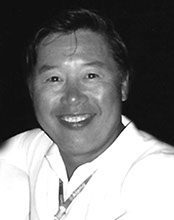 Boxi Liang (CHN)
Honor Pioneer Diver (2015)
The information on this page was written the year of their induction.
FOR THE RECORD: FATHER OF DIVING IN CHINA; 1955 NATIONAL DIVING CHAMPIONSHIPS: gold (3m springboard); 1957 NATIONAL DIVING CHAMPIONSHIPS: gold (10m platform) (3m springboard); 1958-1965 NATIONAL DIVING CHAMPIONSHIPS: gold (3m springboard), gold (10m platform); 1963 CHINA'S FIRST INTERNATIONAL COMPETITION: gold (3m springboard) gold (10m platform); 1966 CHINA'S CULTURAL REVOLUTION FORCED HIM TO RETIRE FOR FOUR YEARS: First Chinese Diving Team Formed With Boxi Named Head Coach; 1972 CALLED FOR MEETING OF ALL DIVING COACHES IN CHINA; DEVELOPED DIVERS HONG PIN LI, LI KONGZHENG (1984 bronze), TOUNG LIANDE (1984 silver), ZHOU JIHONG (1984 gold); 1986 MOVED TO CANADA AND DEVELOPED BLYTHE HARTLEY TO BECOME NATIONAL AND MAKE TWO OLYMPIC TEAMS.
The success of the Chinese in the sport of diving in the Olympic Games since 1984 has been staggering, and many have asked why this is. Invariably, the answer is because of Boxi Liang, considered by many to be the Father of Chinese Diving.
Boxi Liang was born in the Chinese province of Guangdong, in the city then known as Canton, now called Guangzhou, on September 27, 1938.
Growing up, he loved sports, particularly gymnastics, track, and swimming. He also enjoyed playing on diving boards at the pool. In 1954, at the age of 16, he entered a city-wide diving competition – his first – and to his great surprise, he won. Five months later, when he was selected for Guangdong's first provincial diving team, the sport of diving became his life.
When the first Chinese National Diving Championships were held in 1955 and 1956, Boxi was the winner on both the 3 meter springboard and 10 meter platform and he won consistently on both until 1965.
Because Communist China was barred from competing at FINA or Olympic events, Boxi's only international competition took place in 1963, at the Games of Emerging New Forces, in Jakarta, Indonesia. This was a cold-war alternative to the Olympic Games that attracted over 50 nations. Boxi and his Chinese teammates swept all diving events, foreshadowing the future.
Then came the Cultural Revolution, in 1966, when the Chinese government ended competitive sports in favor of mass participation sports, and most elite athletes were sent to collective farms for "re-education." When elite sports returned to China in 1972, and the first Chinese national diving team was formed in Beijing, Boxi was named head coach.
Following an eye opening visit by American Olympic diving champions, Micki King and Bernie Wrightson, in 1973, Boxi realized the best way to compete was to teach and train China's divers to do more difficult and impressive dives.
In 1978, Boxi invited Dr. Sammy Lee to visit China and see how far Chinese diving had progressed. Lee was amazed with what he saw and informed FINA that no legitimate meet could be held without including China. Although still not granted membership, FINA allowed China to compete in the 1979 World Student Games, in Mexico City. There, Boxi's diver Chen Xiaoxia rose to the occasion by upsetting the reigning Russian 10 meter world champion, Irina Kalinina, to take the gold.
In April of the next year, FINA gave Boxi and the Chinese team another opportunity by allowing them to compete in a dual meet against the United States, in Columbus, Ohio which China won, 45 points to 43. After this competition, the Chinese team travelled to Florida and the annual FINA competition at the Hall of Fame, where their exhibition before
the international diving community was both ground-breaking and significant as it led FINA to finally admitting China as a member nation, in 1981.
At the 1981 FINA World Cup, held in Mexico City, China made an auspicious FINA debut, medaling in all four events,
including three gold. Winning gold in the men's platform event was a young diver named Hongping Li, a diver that Boxi had taken under his wing in 1976, when all other coaches had given up on him.
At the 1984 Olympic Games in Los Angeles, Boxi's divers won medals in three of the four diving events and Zhou Jihong won China's first diving Olympic gold medal.
In 1987 Boxi and his family relocated to Canada where he has continued to build on his legacy of developing world-class divers.