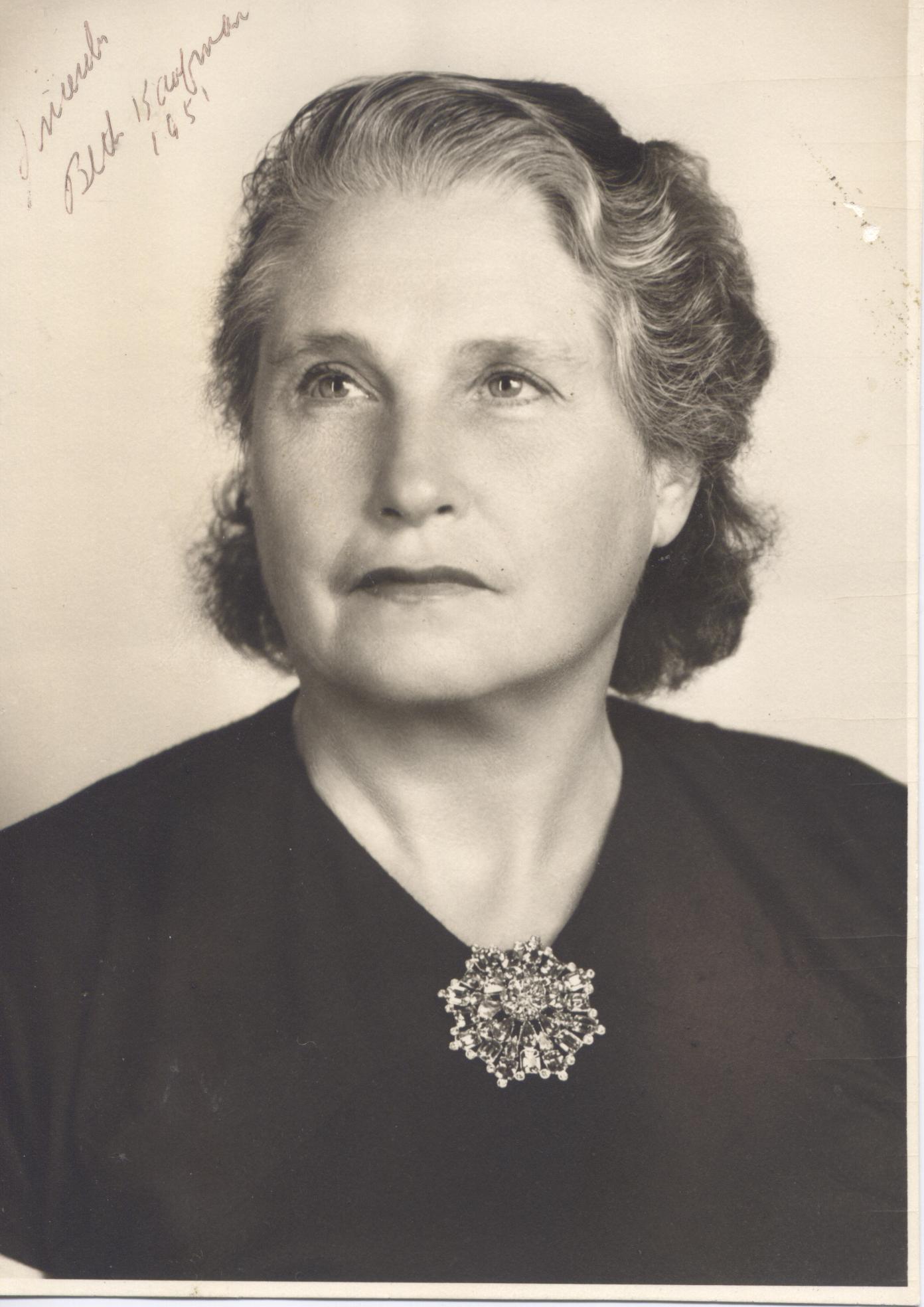 Beth Kaufman (USA)
Honor Contributor (1967)
The information on this page was written the year of their induction.
FOR THE RECORD: American Red Cross Water Safety Chairman for Marin County, California for 12 years; helped originate national age group swimming; National Age-Group Chairman for 10 years.
Even as Carl Bauer let the Age-Group Genie out of the bottle, so Beth Kaufman guided and raised it through the formative years. Born in 1894, married 47 years, two children, 9 grandchildren, and she swims a half mile every day. These vital statistics are Beth Kaufman, who symbolizes the volunteer worker so necessary to make any amateur sports youth program go. As a mother-volunteer, she came into swimming off her concern for a swimming daughter, stayed on to organize and direct Age-Group Swimming, the most successful youth exposure program, swimming or any other amateur sport has ever known.
Beth Kaufman came out of the Red Cross volunteer program, was for 12 years Water Safety Chairman for Marin County, California, worked with Hall of Famer Commodore Longfellow, Ed Carroll and Lew Palmer. She enrolled 500 children a day in this Red Cross program and 20 years later, 500,000 registered annually in her National AAU age-group swimming program.
Her passion for age-group swimming grew from an experience with her own daughter; and this is what makes Beth Kaufman a prototype, perhaps the most successful of thousands of parents drawn into sports administration as volunteers because of their children.
Beth drove to meets, acted as a timer and recorder, helped coach and organize a small swim club. Her daughter won the first meet she entered as a junior and in accordance with the Novice-Junior-Senior rules of that day, she was automatically a senior swimmer, although not possessing the age-strength-skills to compete in this top level competition. "She made it on a freak," says Beth, "and we were stuck with it. I sent her to Crystal Plunge coach Charlie Sava for the stroke work she needed. He was one of the few great coaches we had and not enough children could make the jump from their Red Cross, Recreation, YMCA swimming level to the National Senior Championships. We needed something else."
Beth began driving to the Nationals each year with a group of girls who could not afford to go by commercial transportation. They would stop enroute to work out each day. Everywhere they stopped, the problem of a universal program for all willing and talented children instead of the few specially privileged was obvious. At the Nationals and National AAU conventions, Beth, along with Carl Bauer, Alex Kempner, and others, began the agitation for what is nowo known as Age-Group Swimming.
While Carl Bauer was frustrated convincing the AAU Men's Committee to adopt Age-Group Swimming, the Women's Committee finally agreed to Mrs. Kaufman using her Pacific Association as a test area (1951). The program worked so well that it went national in 1952 and has caught on nationally and internationally beyond even Mrs. Kaufman's fondest dreams. Mrs. Kaufman was National Age-Group chairman, nursing the program 10 years from infancy to the point where virtually every American world and Olympic record holder is a current or former age-group swimmer . . . from age-group's first international gold medal winner Mary Lou Elsenius at the 1955 Pan American Games until the 1964 Tokyo Olympics when every swimmer on the U.S. team was an age-group alumnus.
Each year, Beth Kaufman compiled the national "5 best" rating lists, a mammoth checking and sorting job that preserved the integrity and validity of age-group swimming, and created the desire for more children to compete on an achievement level hitherto undreamed of in a children's sport. She chaired the stormy transition meetings when swimming formulated a working structure for the youngest children that have competed in a National AAU program. She stubbornly held out against parent exploitation of the very young and kept age-group in perspective as a development program, not an end unto itself. She was one of the first to start self-supporting grass roots swim meets and swim clubs wherein a few volunteer families got together, rented a pool, and charged a small entry fee to run their meets.
Strictly as a volunteer, Beth Kaufman organized and nursed age-group swimming through its first and fastest growing 10 years to quite the biggest free world youth program any Olympic sport has known.