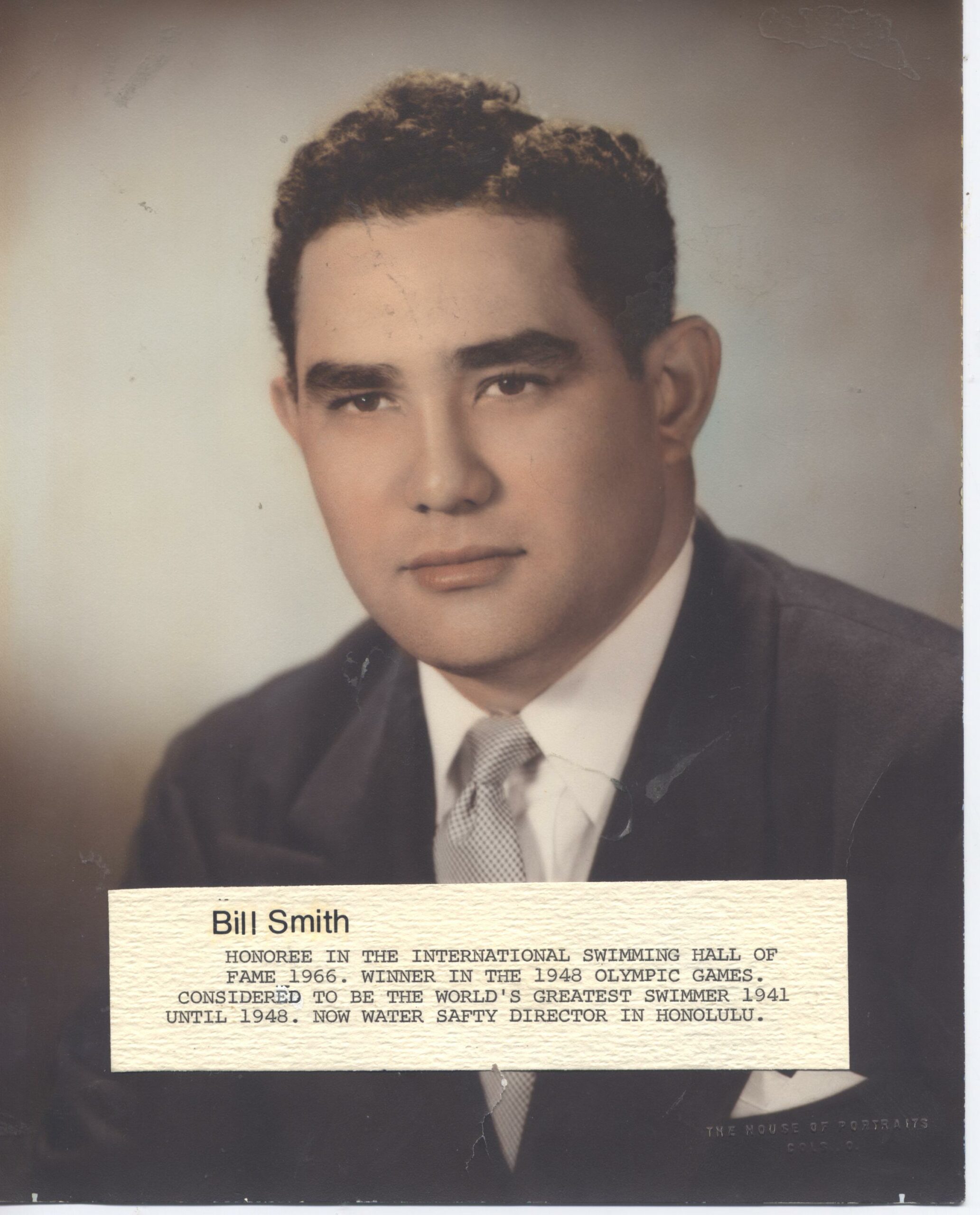 Bill Smith (USA)
Honor Swimmer (1966)
The information on this page was written the year of their induction.
FOR THE RECORD: OLYMPIC GAMES: 1948 gold (400m freestyle; 4x200m freestyle relay); WORLD RECORDS: 7 (1941-1942); NATIONAL AAU CHAMPIONSHIPS: 15; NCAA CHAMPIONSHIPS: 8.
Bill Smith was the greatest freestyler of two current Hall of Fame coaches. Hawaii's Soichi Sakamoto and Ohio State's Mike Peppe.
He began training in a sugar plantation irrigation ditch on Mayi and later became captain of the Surf Guards at Waikiki Beach. In 9 years between these extremes, Smith won National Championships at all freestyle distances through the half mile and topped his career with two gold medals at the 1948 London Olympics, in the 400 meter freestyle and 800 meter freestyle relay. In 1941-42 he set 7 world records, then went on to 15 National AAU championships and 8 NCAA championships. Smith's 200, 400, 800 freestyle marks stood 8 years until the great Japanese Furuhashi broke them in 1949-50.
Smith, an eight-time All American swimmer (1941-49) was three times runner-up for the Sullivan Award, the USA's highest amateur sports honor. He was voted the Outstanding Swimmer of the 1944 National AAU Short Course Championships at Ann Arbor, Michigan, where he won three individual freestyle events and swam on two winning relay teams.
His greatest AAU meet was the 1942 Outdoor Nationals at New London, Connecticut where he won three freestyle events, one a world record and the other two, American records. He won a total of 36 individual and relay titles in AAU, Big Ten and NCAA championships. He held American records at 18 different distances and was generally considered the World's outstanding swimmer from 1941 5o 1949.
Smith is the Water Safety Director, Department of Parks and Recreation for the City and County of Honolulu. A big man who looked fat by land sports standards, Smith was living proof that all body types can swim. In the water, he was mean, if not lean.