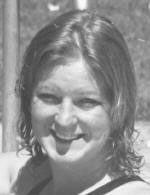 Beverley Whitfield (AUS)
Honor Swimmer (1995)
The information on this page was written the year of their induction.
FOR THE RECORD: 1972 OLYMPIC GAMES: gold (200m breaststroke), bronze (100m breaststroke); 1970 COMMONWEALTH GAMES: gold (100m and 200m breaststroke, 4x100m medley relay); 1974 COMMONWEALTH GAMES: silver (200m breaststroke, 4x100m medley relay); 8 AUSTRALIAN NATIONAL CHAMPIONSHIPS; 2 NEW ZEALAND NATIONAL CHAMPIONSHIPS.
In an essay for school, Beverley Whitfield wrote, "If I could fulfill my wish I would be in Munich, Germany, for the 1972 Olympic Games and win a gold medal as a member of the swimming team." Not many youngsters have the foresight and wherewithal to make a goal for themselves and follow it through four years later. This determined Australian swimmer did just that.
Born in a small, coastal town near Wollongong, Australia, Bev learned to swim in the seaside near her home. By the age of eleven she had developed to the point that Terry Gathercole, one of the greatest Australian breaststroke coaches of all time, saw her potential and began coaching her. By 1970, Beverley had developed into a world class competitor when, at the Commonweath Games, she claimed three gold medals in the 100 and 200m breaststrokes and shared the victory with her teammates in the 4×100 medley relay.
Bev's mental attitude predated today's most modern sports psychologists' methodologies. Before every race, Bev indulged in living out every stage of a race in her mind, through the use of creative visualization. Perhaps this is why she believes that her greatest moment at the 1972 Munich Olympics was meant to be.
Bev surprised the millions of eyes watching the swimming competition twice at the Games. At the end of the 100 meter breaststroke, Bev moved from an incredible sixth place to claim a bronze medal behind Cathy Carr of the USA and Galina Stepanova of the Soviet Union. Determined to win the gold she so desired, Bev went into the 200 meter race having visually planned out her every stroke. Two-thirds of they way through the final race, Bev was in fourth place, far behind the leader of the pack, Stepanova. On the third and final lap, Whitfield surged ahead as the other swimmers began to tire, passing up three opponents to win the gold just seven-tenths of a second ahead of Stepanova.
Bev Whitfield is well remembered for her overwhelming response to winning the gold, culminating in the fulfillment of her long-time wish. Today, Bev lives in Australia and works with adolescents. Bev tries to instill in these youths many life-long lessons she has gained from her memorable swimming career.