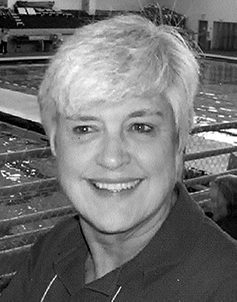 Beth Carey (USA)
Honor Masters Synchronized / Artistic Swimmer (2018)
The information on this page was written the year of their induction.
INTERNATIONAL HIGHLIGHTS: 8 FINA MASTERS WORLD CHAMPIONSHIPS: 1992-2010: 20 medals (8 gold, 7 silver, 5 bronze); 2013 PAN AMERICAN MASTERS CHAMPIONSHIPS: 1 gold (duet), 1 silver (team); US MASTERS NATIONAL CHAMPIONSHIPS: 1984-present): 77 medals (medals in her age group every year, missing only one US MASTERS CHAMPIONSHIPS in the last 30 years, due to illness); 40+ year career in Masters synchronized swimming (from 40's to now in her 80's)
In the late 1950's Beth Carey was a member of the water-ballet club at Cortland State Teacher's College. It was a different sport back then, mainly stroking patterns like in an Esther Williams film and the girls didn't wear nose clips.
She began swimming again at the age of 45, with the Ramapo Aqua Masters Synchro Team. Now in her 80's, she has competed in the U.S. Masters Nationals since 1983, and in 1992, she made her first trip to a Masters World Championship. At the meet in Indianapolis, she earned her first two World Championship gold medals. Carey has since competed in eight FINA Masters World Championships, as well as the Masters World Games, Pan Pacific Masters, Pan American Masters and the Canadian National Championships.
Continuing to swim as much as possible, she recently received a clean bill of health after a battle with pancreatic cancer. She credits synchronized swimming for her good health and for giving her the energy she needs for her five children, 22 grandchildren and seven great-grands.
"Exercise," she says, "is the most important thing as you age". Now, at 81, she is still in fantastic shape.
Married for 59 years to a college swim coach, she knows that swimming, plus daily exercise is keeping her healthy. Carey's goal is to compete into her 90's.
Even more important to Carey than the exercise, is being part of the team. "We help each other, and I just love the team aspect of it and that spirit of camaraderie extends to other teams as well. They are competitors, but we look forward to seeing our friends from all over the country every year. We root for each other even when we are competing against each other."