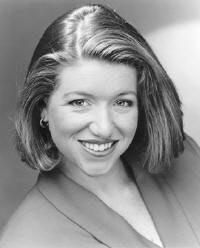 Becky Dyroen-Lancer (USA)
Honor Synchronized / Artistic Swimmer (2004)
The information on this page was written the year of their induction.
FOR THE RECORD: 1996 OLYMPIC GAMES: gold (team); 1991 WORLD CHAMPIONSHIPS: gold (team); 1994 WORLD CHAMPIONSHIPS: gold (solo, duet, team, figures); 1991 PAN AMERICAN GAMES: gold (solo); 1995 PAN AMERICAN GAMES: gold (solo, duet, team, figures); V, VI, VII FINA WORLD CUPS: 9 gold (solo, duet, figures – 1993-1995, team – 1991, 1993, 1995); 1995 FINA PRIZE recipient; Swimming World's World Synchronized Swimmer of the Year: 1993, 1994, 1995. Never beaten in FINA competition 1993-1997.
Becky Dyroen-Lancer may very well be the most dominant synchronized swimmer of all time. She is certainly one of the most decorated synchronized swimmers in history. Through hard work, concentration, and faith in God, she rose from an age group swimmer to World and Olympic Champion.
At age five, doctors repaired a hole in Becky's heart. But it did not stop her, and at age nine, the San Jose, California native splashed into a sport in which she was to reign for many years. She was a Santa Clara Aquamaid from the beginning and with Coach Chris Carver she never looked back.
She became a national team member in 1988, and just three years later she began to stamp her mark in synchronized swimming history. At the 1991 Pan American Games in Havana, Becky won as solo champion. She was solo, duet and team champion at the French Open and team champion at the V FINA World Cup, Mallorca Open, and at the Perth World Championships. In 1992, she was the silver medalist at the U.S. Nationals and U.S. Olympic Trials, and gold medalist at the Swiss Open in solo, duet, team and figures.
With the Olympic Champions of 1992 retiring, Becky was ready to step in as the new generation of swimmers succeeded to the awards stand. At age 21 in 1993, with an astonishing aerobic capacity, her relentless international-winning career began to take hold.
Synchronized swimming to Becky was a family affair. Mother Paula designed her swim suits, sister Suzannah was a national teammate who was soon-to-be World and Olympic Team Champion with Becky and husband Kevin who taught ballet for body control. She won the solo and duet events at the FINA World Cup and German Open in 1993. It was also the year she won the U.S. National Championships Grand Slam, winning solo, duet, team, and figures in the same meet. She became the only swimmer to equal and then beat 1967 Hall of Famer Margo McGrath's successive Grand Slam National Championships – winning all four events. Most all of Becky's duet competitions were won with her teammate and partner Jill Sudduth.
During her career, Becky won an unprecedented and unequaled nine Grand Slams in National Championships and International Competition. A grand slam in synchronized swimming is similar to hitting a home run with the bases loaded in baseball like Babe Ruth and Hank Aaron did so many times, or winning all four major international tennis tournaments in a year like Rod Laver and Steffi Graf did. From 1993, she never lost a FINA international competition. In 1994, she was the most decorated athlete at the Rome World Championships, winning gold medals in all of solo, duet, and team, and also winning the figures competition. Her three gold medals totaled more than any swimmer or diver at the championships. In 1995, she was awarded the FINA Prize, the highest award presented annually by FINA to a swimmer, diver, synchronized swimmer, water polo player, coach or contributor for his or her outstanding accomplishments and excellence in sport. Becky is the first synchronized swimmer to receive this award.
During 1995, Becky received three grand slams, winning solo, duet, team, and figures at the Pan American Games, FINA World Cup and U. S. National Championships. At the 1996 U.S. Olympic Trials she was elected team captain.
The only synchronized swimming event at the 1996 Atlanta Olympics was the team event. As team captain, Becky led the U.S. Team to the gold medal with a perfect score of 100, winning their five minute free routine titled "Fantasia on the Orchestra."
Becky is "Swimming Worlds" World Synchronized Swimmer of the Year 1993, 1994, 1995; a Sullivan Award nominee 1993, 1994, 1995; and a U.S.O.C. Top Ten Sportswoman of the Year.
Becky, with husband Kevin Lancer, has two children – Dyroen, age five and Thomas, age two. She is currently a performer in the famed Cirque du Soleil's "O" and a preschool exercise class instructor.